Li, head of US state seek ways to enhance exchanges
By HU YONGQI | chinadaily.com.cn | Updated: 2017-08-02 04:44
Premier Li Keqiang said on Tuesday that all US states, including Michigan, are welcome to strengthen exchanges with provinces and municipalities in China and deepen cooperation in fields such as trade, investment, manufacturing and innovations.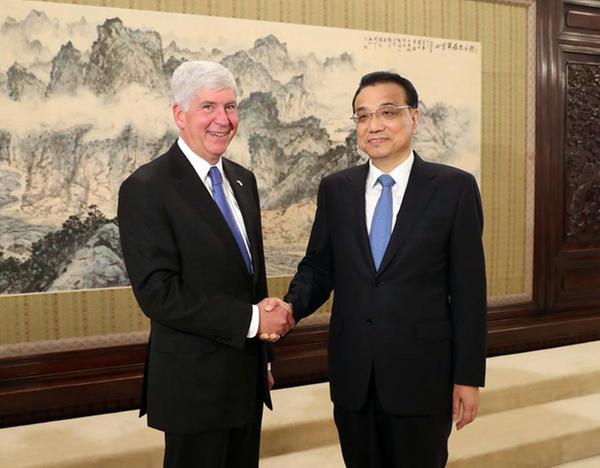 Premier Li Keqiang meets Michigan Governor Rick Snyder in Zhongnanhai, the central leadership's compound, in Beijing on Tuesday. They discussed a range of subjects, from trade to investment and employment. [Photo/Xinhua]
He was speaking to Rick Snyder, Michigan's governor, when they met in Beijing, one stop for Snyder's nine-day investment mission to China that started on Sunday.
Li said local cooperation between the two countries is booming, which is helpful to expand common interests. China will cultivate an open and facilitating environment, he said.
"You have visited China each year since taking office as governor. The cooperation between your state and China has been highly productive, … which shows the cooperation between our two countries has delivered tangible benefits to our people," Li said.
Common interests far override differences for China and the US as the world's largest developing country and developed country, Li said. Since the outset of this year, the presidents of both countries have met twice, while both nations are expanding dialogues and exchanges at various levels. China would like to enhance understanding and mutual trust and expand pragmatic cooperation in key areas to achieve a healthy and stable relationship with the US, he said.
In response, Snyder said Michigan has benefited from cooperation between the countries and hopes to expand exchanges in all fields, which he said will help promote mutual understanding and bilateral ties.
Michigan is home to much of the US auto industry, with 375 automobile research centers, and is one of the world's leading destinations for high-quality technicians and engineers.
The governor's investment mission to China focuses on promoting job-creating business growth, attracting investment to Michigan and making the state a tourism destination for Chinese travelers, according to the state's website, Michigan.gov.
The governor also will visit Guangzhou and Shenzhen in Guangdong province, Chengdu in Sichuan province, Shanghai, and Hangzhou in Zhejiang province, it said.
In August 2015, the Ministry of Commerce signed a memorandum of understanding to promote trade and investment between Michigan and five provincial regions, namely, Zhejiang, Hubei, Guangdong and Sichuan provinces and Chongqing.
Last year, Michigan ranked second in the US in the number of investment projects from China. Michigan also ranked third in the number of jobs created through Chinese investment. Between January 2010 and July 2017, the state received $1.1 billion in new business investment from China, the website said.