Uruguayan Candombe beats in Beijing
By Liu Xuan | chinadaily.com.cn | Updated: 2017-08-04 16:46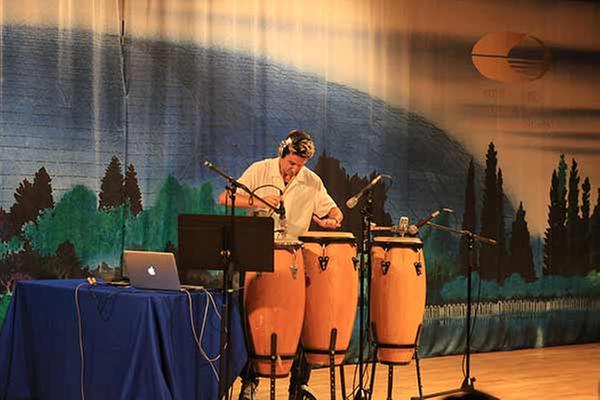 The three different drums are chico, repique and piano. Each plays a unique role during the performance. Liu Xuan / China Daily
First brought by slaves to Uruguay, Candombe is now a World Cultural Heritage of humanity and symbol of local culture. Daniel "Tatita" Marquez, percussionist and expert on Candombe, performed some contemporary Candombe music on Thursday evening at the National Center for the Performing Arts in Beijing.
Contemporary Candombe is a music style developed by Marquez combining traditional Candombe music with jazz, electronic and other elements. The audience can hear both the sound of original beats inherited from African culture and the rhythm borrowed from modern art.
Uruguayan Candombe music uses wooden drums that are shaped like barrels and called tamboriles. The music style is based on three different drums: chico, repique and piano drums. Each of them carries a different drum beat during the performance. Typically, performers wear the drums with one strap over the shoulder and play them with a stick in the other hand while marching. Marquez prefers to use free-standing drums on stage.
Instead of using traditional Condombe drums, Marquez this time rented three Brazilian drums. "It's inconvenient to travel with so many drums," Marquez explained. "So every time I just rent the instruments in the local stores."
His performance also used new technology. The equipment fixed to the drums helps him conduct the performance beating three drums at the same time and add some modern music elements.
Eugenia Silveira Chirimini, a Uruguayan dancer, danced to the beating of Condombe, adding visual enjoyment to the party.
Candombe was introduced to South America along with the slave trade in the late 18th century. At that time, African-Uruguayans would organize Candombe dances every Sunday and on special holidays such as New Year's Eve. It was even banned by the government at one stage as it was considered a threat to public morals.
However, with the abolition of slavery and the integration of local people, Condombe has become a performance widely enjoyed by Uruguayans and an important aspect of the culture. In 2013, UNESCO recognized Candombe as a World Cultural Heritage of humanity.
Marquez said he hoped to bring Candombe around the world and introduce this type of music to more people.
liuxuan@chinadaily.com.cn