Two Linkin Park albums back in US top 10 chart
Updated: 2017-08-04 08:01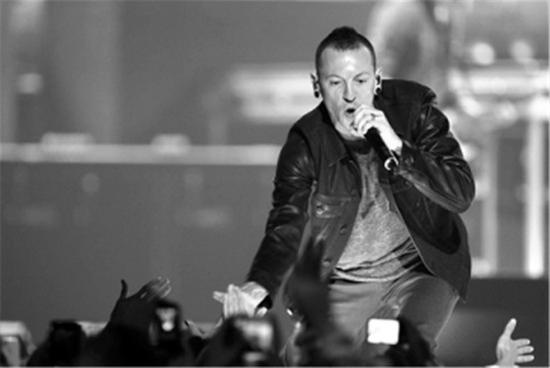 Chester Bennington of the band Linkin Park performs at the 2012 iHeartRadio Music Festival at the MGM Grand Garden Arena in Las Vegas. [Photo/Agencies]
Two albums by Linkin Park reentered the top 10 on the US sales chart on Tuesday as fans mourned the suicide of frontman Chester Bennington.
One More Light, the California rockers' final album, which hit number one when it came out in May, jumped back to number four on the Billboard chart for the week through Thursday.
Hybrid Theory-Linkin Park's debut album, which was the top-selling US album of 2001 and produced angst-ridden hits such as In The End-returned at number eight on the latest weekly chart, tracking service Nielsen Music says.
Bennington-whose raw metal voice complemented the hiphop interludes of Linkin Park guitarist Mike Shinoda-was found hanging at his Los Angeles home on July 20.
The 41-year-old had long struggled with drug and alcohol abuse and the trauma of child abuse.
Family and friends buried Bennington privately on Saturday in Los Angeles, according to social media postings of participants.
The band on the internet has also endorsed hundreds of public events around the world to honor Bennington ranging from charity shows to fan meet-ups.
In a sign of the global appeal of Linkin Park, one of the busiest areas for memorial events is Asia, where the band's song Numb topped the latest song download charts in Singapore.
The US Billboard chart-released a day later than usual after technical issues-saw the melancholic pop singer Lana Del Rey debuting at number one with her latest album Lust for Life.
The album, which features stars from The Weeknd to Stevie Nicks, sold 107,000 units or the digital equivalent, narrowly edging out new albums by rappers Tyler, The Creator and Meek Mill.
Del Rey dethroned rap mogul JayZ, whose 4:44 slipped to number seven after two weeks on top of the chart.
AGENCE FRANCE-PRESSE