Foxconn to build R&D center in Michigan
By Chai Hua in Shenzhen | chinadaily.com.cn | Updated: 2017-08-05 21:27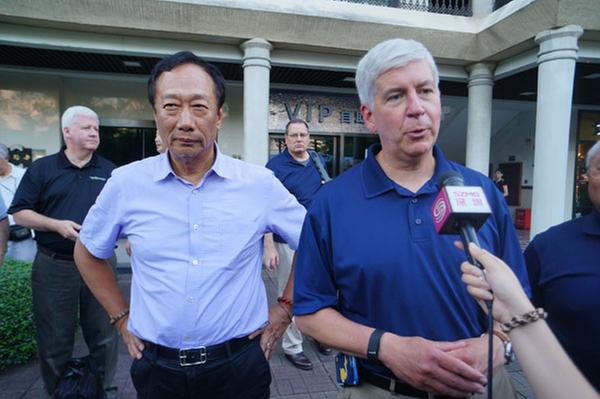 Terry Gou (L), founder and CEO of Foxconn Technology Group, and Richard Snyder (R), governor of the US state of Michigan, speak to the media.[Photo by Chai Hua/chinadaily.com.cn]
Terry Gou, founder and CEO of Foxconn Technology Group, met this afternoon with Richard Snyder, governor of the US state of Michigan, to discuss potential investment in the automobile industry.
Gou disclosed the firm plans to establish a research center in the state that accounts for 70 percent of the R&D development in the country's automobile industry, and that the industry will be a key aspect of the future development of the world's largest electronics manufacturer.
He announced last week the plan to invest $10 billion in the next four years to build a factory in Wisconsin in the US. However, US President Donald Trump said Foxconn's total investment will triple, according to Bloomberg.
"I can't say it is a sure thing, but we are indeed in discussion with several other states and the details will be announced soon," Gou responded to the media.
When asked how to balance investment in the US and China, Gou said the market and technology are most important for his firm and he will continue to expand investment in both countries.
"We won't decrease investment in one place because we expanded in another," he said.
After visiting Foxconn's factory at Shenzhen's Longhua district, Richard Snyder told the media that he is very excited to see Foxconn's facilities and that they are "extremely wonderful."
grace@chinadailyhk.com