Reform raises quality of court proceedings
By Cao Yin | China Daily | Updated: 2017-08-07 08:41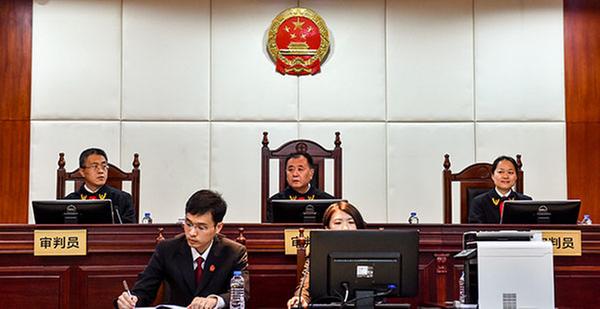 Judges at the Supreme People's Court's First Circuit Court in Shenzhen, Guangdong province, hear its first case, in 2015.[Photo/Xinhua]
In the past five years, the nation's judicial system has been overhauled to provide a more efficient and responsive service, as Cao Yin reports.
Since 2012, when the top leadership spoke of the need to improve the nation's courts, a number of measures have been taken to uphold the rule of law and improve the quality of hearings.
For example, special courts have been established in Beijing, Shanghai and Guangdong province to hear the rising number of disputes involving intellectual property rights, while proceedings have been improved and speeded up by the simplification of many court procedures and the introduction of technology.
Now, litigants can file lawsuits online, and the court must provide feedback and a decision on whether the case will be accepted within a day of the application being submitted. In other words, initiating a lawsuit has become much easier.
The process of taking a neighbor to court, or appealing decisions made by government departments - which previously attracted large numbers of complaints - has also changed a lot. Under the reforms, government departments are not allowed to interfere in case hearings, while related officials must attend trials to resolve problems.
Moreover, courts have been established to handle administrative disputes citywide. For instance, Beijing No 4 Intermediate People's Court can hear cases brought against government bodies from any district across the capital, a move designed to prevent interference by officials from the districts under scrutiny.
As the new courts and procedures have been rolled out, the nation's judges have witnessed the changes and have become part of the reform process.
To improve the quality and professionalism of hearings, the number of judges has been reduced, and the judiciary is now classified into three distinct branches.
The number of judges who have the right to hand down verdicts has been reduced, while a number of former judges have become judicial assistants responsible for providing case materials and evidence to the judges, or have been reclassified as court clerks.
There were two rounds of selection, and eventually 120,000 of the nation's 210,000 judicial officers were named as judges.
So what do China's judges think about the reform, and what have they experienced during the past five years?
China's Daily's Cao Yin spoke with five members of the judiciary to discover what they think of the reform.