Wang, US counterpart hail interaction of two countries
By ZHANG YUNBI | China Daily | Updated: 2017-08-07 07:07
Talks between foreign minister, Tillerson help prepare for Trump's visit this year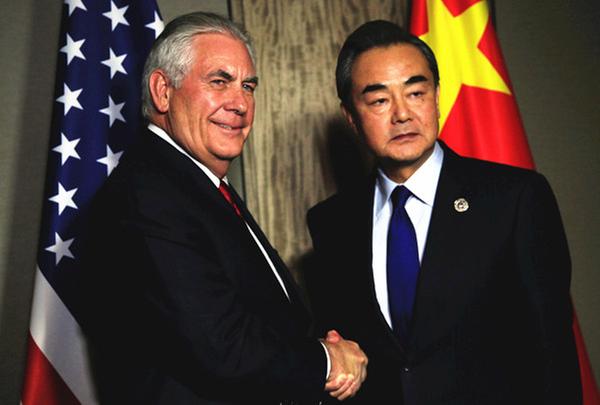 Foreign Minister Wang Yi greets US Secretary of State Rex Tillerson before their talks in Manila, Philippines, on Sunday. ROMEO RANOCO/REUTERS
Senior Chinese and US diplomats agreed on Sunday to work together to make US President Donald Trump's visit to China this year benefit healthy development of the two countries' ties and to map out their relations for coming 50 years.
The agreement was announced by Foreign Minister Wang Yi after his meeting with US Secretary of State Rex Tillerson in the Philippine capital.
Wang and Tillerson, in Manila for a series of meetings regarding the 10-member Association of Southeast Asian Nations, both hailed the recent positive interaction between their two countries.
As long as the two members of the United Nations Security Council boost mutual understanding and engage in dialogue and cooperation, they can expect to see progress in the relationship, a more sustained development and benefit to the world, Wang said.
During President Xi Jinping's trip to the United States in April, the two sides agreed to engage in four dialogues.
Senior officials from both sides later held the first meetings of two of those dialogues, on economic affairs and diplomacy and security.
Wang said he and Tillerson both endorsed the two dialogues, and they expected an early start to and results from the remaining two dialogues, which will focus on cultural exchanges, law enforcement and cyber security.
The start of the four dialogues will help better prepare Trump's visit, Wang said.
He and Tillerson also talked about the South China Sea issue and the Korean Peninsular situation.
In another development, the Association of Southeast Asian Nations agreed on Sunday to China's proposed initiatives that will pave the way for launching formal negotiations on an actual code of conduct in the South China Sea, a spokesman for the Philippines said.
Robespierre Bolivar, spokesman for the Department of Foreign Affairs, said the ASEAN foreign ministers and China support the steps that both sides will take to launch formal negotiations on the COC, Xinhua reported.
"There is a consensus between ASEAN and China," he said at a news conference at the end of the ministerial meeting.
Wang announced in a press briefing after the meeting that China had proposed three steps for discussing the COC.
These steps include announcing the initiation of the substantive consultations on the COC at a proper time this year.
They also include leaders of China and ASEAN member states announcing the start of negotiations on the text of the COC at the China-ASEAN Leaders' Meeting in November.
Wang said all the achievements made have testified to China and ASEAN having the wisdom and ability to properly manage disputes, formulate a set of regional rules that all recognize and preserve peace and stability in the South China Sea.