Chinese and Canadian teens celebrate friendship with concert
Chinaculture.org | Updated: 2017-08-07 14:33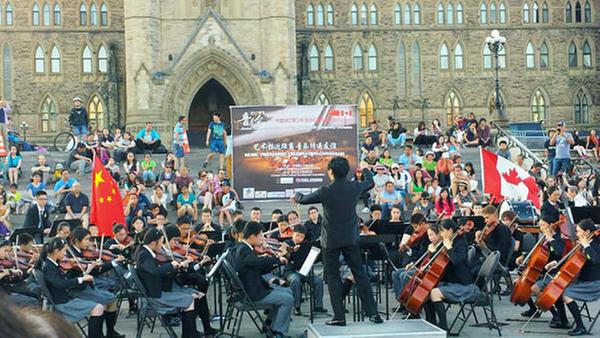 Chinese and Canadian teenagers play at the Music Friendship Celebrating Canada 150 concert at Parliament Hill, Ottawa, Canada, on Aug 1, 2017. [Photo/Chinaculture.org]
In collaboration with young Canadian musicians, China's Zhejiang Youth Symphony Orchestra played at an East-West fusion performance at Parliament Hill, Ottawa, Canada, on Aug 1.
The concert, titled Music Friendship Celebrating Canada 150, included classics and modern pieces from East and West, such as Chinese folk song Jasmine, Western classic Overture of Carmen and music from the movie, Pirates of the Caribbean.
The show is part of the cultural events to celebrate Canada's 150th anniversary. Sixty musicians from the Zhejiang Youth Symphony Orchestra were invited to Canada by the Canada-China Cultural Development Association. Zhao Haisheng, cultural counselor of the Chinese embassy in Canada, attended the concert.