Temer vows to unite Brazil as Lula's supporters set to march
Xinhua | Updated: 2017-08-08 09:22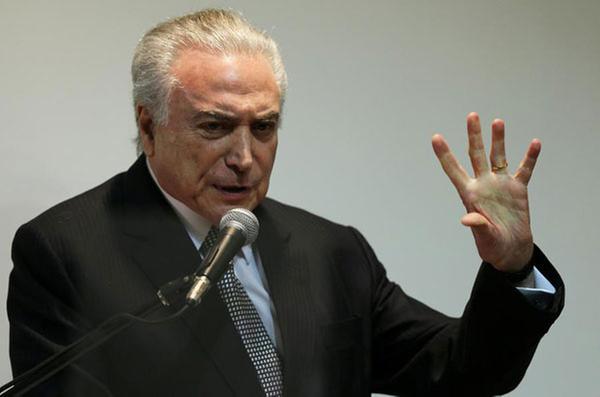 Brazil's President Michel Temer speaks during a ceremony in Sao Paulo, Brazil August 7, 2017. [Photo/Agencies]
RIO DE JANEIRO - Brazil's President Michel Temer vowed Monday to "unite" the country and called the division caused by the country's political crisis "unacceptable."
"It is unacceptable that Brazilians go up against Brazilians. We must unite Brazil," said Temer in a speech in Sao Paulo.
Temer survived a vote by the Chamber of Deputies, which exonerated him of corruption charges, but criticized the "excess of emotions" that has seen government and opposition supporters clash on the streets and online.
He praised the mayor of Sao Paulo, Joao Doria, who is seen as a potential presidential candidate, for seeking solutions.
"We need solutions. I see that Doria works with conciliation, always adding and joining," he said. "Doria understands the problems of the country like nobody. His vision is not local, it is also national."
However, the Workers' Party (PT) seemed very likely to continue its vociferous opposition to Temer. The country has seen a slew of new membership applications in July, despite a corruption conviction for its figurehead, former president Luiz Inacio Lula da Silva, which saw him condemned to 9.5 years in prison.
Remaining free while appealing his case, Lula and the PT are preparing for a recruitment drive in the northeast of Brazil. In July, the party has said it signed up 5,141 new members.
The Globo television network revealed Monday that Lula will personally sign the membership cards of new members in the states of Pernambuco and Paraiba.
Lula is adamant that he will run for election in 2018 even though his sentence bars him from public office. Seen as a strong Plan B by the party, the former mayor of Sao Paulo, Fernando Haddad, will accompany the trip.
The poorer northeast of Brazil has always been a strong base of support for Lula and the PT, with the former president having been born in Pernambuco.