Woodcarver notches 30 years in his craft
By Qi Xin in Xinxiang, Henan | chinadaily.com.cn | Updated: 2017-08-09 19:38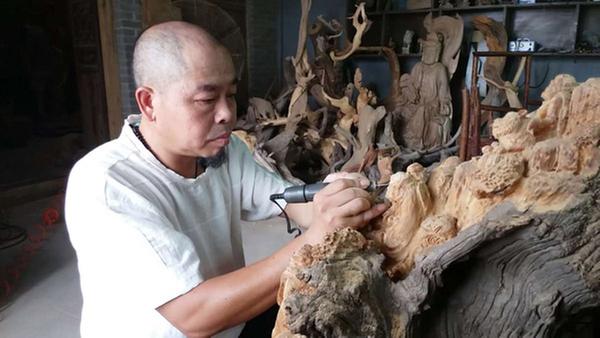 Hu Wenjie, 47, has been fascinated with woodcarving for nearly 30 years. [Photo by Shi Baoyin/chinadaily.com.cn]
Woodcarving has so fascinated Hu Wenjie that after almost 30 years in his craft, he now mainly captures Buddhist figures from his workshop in Xinxiang city, Central China's Henan province.
Hu 47, is also called "Hu Yidao" by locals, because he is regarded as a skilled carving craftsman.
Woodcarving, a Chinese traditional craft with a history of over 3,000 years, was enrolled in the second batch of the National Intangible Cultural Heritage List, which was approved by the State Council in 2008.
Hu noted that as he held a precious piece of thuja sutchuenensis, an evergreen coniferous tree. He said he prefers to imagine the piece he's going to carve before putting his knives to it.
Shi Yongxing, 26, Hu's student, said he studied woodcarving for three years. Hu told him to learn woodcarving by heart because it is meaningful to pass this Chinese traditional craft forward.
Hu said his works are mainly sold to his friends in the city, but he also plans to have an online store to let more people know about his woodcarving.