Xi extends congratulations on 50th anniversary of ASEAN's founding
Xinhua | Updated: 2017-08-09 09:07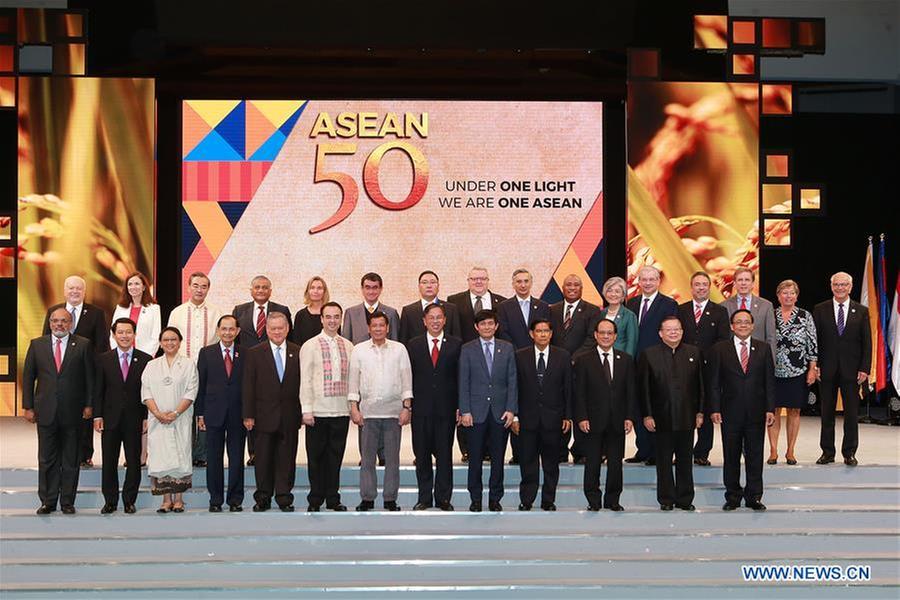 Philippine President Rodrigo Duterte (Bottom row, 7th L), Chinese Foreign Minister Wang Yi (Top row, 3rd L) and other guests pose for a group photo during the grand celebration of the 50th anniversary of the founding of the Association of Southeast Asian Nations (ASEAN) in Manila, the Philippines, Aug 8, 2017. [Photo/Xinhua]
BEIJING - Chinese President Xi Jinping on Tuesday sent a congratulatory message to Rodrigo Duterte, president of the Philippines which is the rotating chair of the Association of Southeastern Asian Nations (ASEAN), on the 50th anniversary of the founding of ASEAN.
"On this occasion of the 50th anniversary of the founding of ASEAN, I would like to, on behalf of the Chinese government and the Chinese people and in my own name, express warm congratulations to you, and through you, to the governments and peoples of the member states of ASEAN," Xi said in the message.
Since its establishment half a century ago, ASEAN has kept developing and enlarging itself, building itself into a community. It has played an important role in maintaining regional peace and stability, and has become a representative force for multipolarity development of the world, Xi said.
China wishes ASEAN to achieve new greater development in its construction as a community, make greater contribution to promoting regional peace, stability and prosperity, and bring more benefits to the peoples of all ASEAN member states, according to the Chinese president.
Since the relationship of dialogue was established between them in 1991, China and ASEAN have adhered to the theme of cooperation and development, with mutual political trust keeping strengthening, and pragmatic cooperation yielding fruitful results, Xi said.
The China-ASEAN relationship has become the most dynamic and most profound one among ASEAN's relationships with dialogue partners, he added.
China is willing to continue sticking to the principles of amity, sincerity, mutual benefit and inclusiveness, and take the 15th anniversary in 2018 of the establishment of the China-ASEAN strategic partnership as an opportunity to build a closer community of common destiny together with ASEAN on the basis of what has been achieved so far, and with the focus on the future, in order that it will become a paradigm of communities of common destiny in Asia, Xi said.