Defeat of no confidence vote a victory for all, S. African expert says
Xinhua | Updated: 2017-08-09 09:15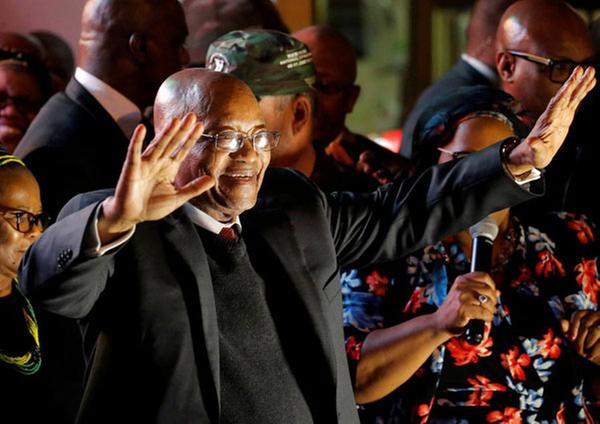 South Africa's President Jacob Zuma celebrates with his supporters after he survived a no-confidence motion in parliament in Cape Town, South Africa, August 8, 2017. [Photo/Agencies]
JOHANNESBURG - The failure of no confidence vote against South African President Jacob Zuma is a victory for him and the oppositions, said a South African expert on Tuesday.
South African legislators conducted a secret ballot vote of no confidence on Zuma on Tuesday. Altogether 198 Members of Parliament voted against the no confidence while 177 voted for it.
The event means that Zuma will continue as the ruling African National Congress (ANC) President and that of the country. Steven Gruzd, Program Head, Governance and the African Peer Review Mechanism at the South African Institute of International Affairs said both the ruling party and the opposition are winners.
"This is a victory for the president, he is a survivor, having survived a total of eighty no confidence vote and criminal charges. He is still sitting there at the Union Building (Presidential palace). Both the ANC and the opposition are winners in this case," said Gruzd.
The opposition managed to go to the highest court in the land, Constitutional Court to force the Speaker of the National Assembly to allow the secret ballot. About 30 ANC Members of Parliament voted for removing Zuma from the office.
Gruzd said this shows that there are some ANC members who are dissatisfied with the president.
"This might be a temporary victory for Zuma but it remains to be seen what will happen in the next few days. The rand also dropped in value when the results were announced but it remains to be seen how the markets will react to that," Gruzd added.
The process also shows that there is democracy in the country and strong institutions. This was exhibited in the opposition political parties taking their wish to the Speaker of Parliament and Constitutional Court and then agreeing to the secret ballot, said the expert.
This is the eighth time that a vote of no confidence on the President Zuma has failed to dislodge him from power due to the higher number of Members of Parliament. In November 2016 Zuma survived the no confidence vote with the majority 214.