Response speedy to Sichuan quake
By CAO YIN | China Daily | Updated: 2017-08-10 03:53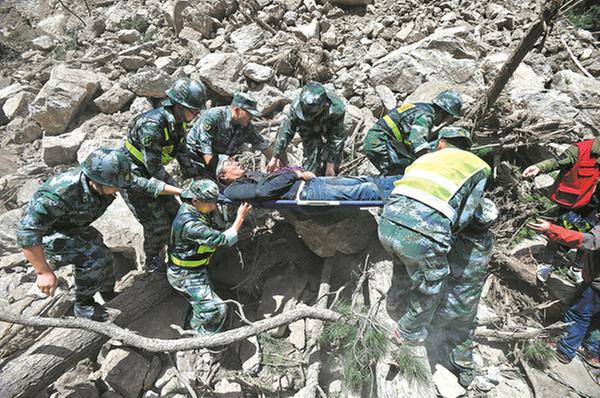 Armed Police and militia carry an injured person on Wednesday after Tuesday night's earthquake in Sichuan province's Jiuzhaigou county. Armed Police and the PLA Ground Force also were mobilized. WANG QIN / CHENGDU ECONOMIC DAILY VIA REUTERS
Xi urges all-out efforts to minimize the number of dead and injured
The death toll from a magnitude-7.0 earthquake that struck Jiuzhaigou county in Sichuan province on Tuesday night rose to 20 and the tally of the injured rose to 431, including 18 seriously, by Thursday noon. All-out rescue efforts were continuing.
About 60,000 tourists and migrant workers had been evacuated from the epicenter of the quake by 5 pm Wednesday. "The evacuation has been swift and efficient," said Liu Zuoming, director of the disaster relief headquarters.
The quake struck Jiuzhaigou county in the Aba Tibetan and Qiang autonomous prefecture at 9:19 pm on Tuesday at a depth of 20 kilometers. More than 1,000 aftershocks — the strongest magnitude-4.6 — had struck by late Wednesday, according to the China Earthquake Administration.
On Tuesday night, President Xi Jinping called for all-out efforts to rapidly organize relief work and rescue the injured. Xi said authorities should check the impact of the earthquake, evacuate and settle visitors and local people, and reduce death and injuries as much as possible.
Since the earthquake took place during the peak tourist season as well as flood season, authorities should enhance meteorological early warnings and geological monitoring to guard against other disasters and try their best to protect people's lives and property, Xi added.