In Xinjiang, new houses 'saved lives'
By Cui Jia and Mao Weihua in Urumqi | China Daily | Updated: 2017-08-10 08:11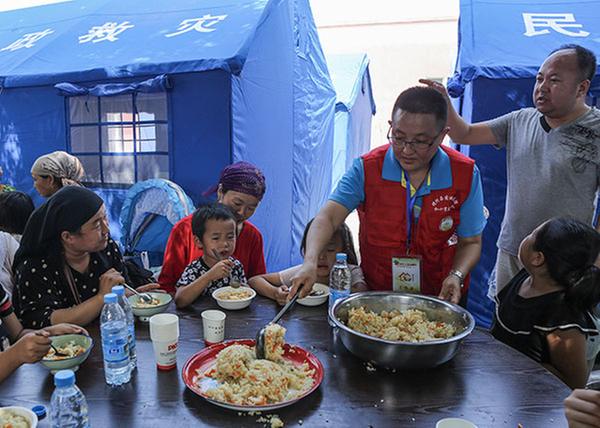 Residents eat pilaf-rice boiled in a seasoned liquid with meat and carrots-in a resettlement area for those displaced by the Jinghe earthquake in the Xinjiang Uygur autonomous region on Wednesday.[Photo/Xinhua]
Improved structures stood up to strain as quake rattled region on Wednesday
Earthquake-proof housing projects in the Xinjiang Uygur autonomous region-especially in its rural areas-have significantly reduced casualties during recent earthquakes in the quake-prone region, a disaster relief expert said.
"Most of the houses that collapsed in recent earthquakes were old adobe houses. The masonry-concrete earthquake-proof houses have proved strong enough to survive earthquakes," said Han Lingge, deputy director of earthquake prevention department of the Xinjiang Seismological Bureau in Urumqi, the regional capital, after a magnitude-6.6 earthquake struck Xinjiang on Wednesday.
The China Earthquake Networks Center said the temblor occurred at 7:27 am in Jinghe county, in the Bortala Mongolian autonomous prefecture, at a depth of 11 kilometers.
As of 1 pm, about 120 aftershocks had been recorded.
Thirty-two people were injured and 142 homes collapsed in Jinghe, the regional government said on Wednesday afternoon. Two of the injured are in critical condition.
According to reports from the epicenter, many of the injured were still living in old houses and waiting to move into earthquake-proof ones. The new houses remained standing during the earthquake, Han said.
"Many casualties during earthquakes are caused by collapsed buildings, so the earthquake-proof houses have indeed saved many lives," she said.
Initiated and funded by the central and regional governments, Xinjiang began to introduce earthquake-proof housing projects around the region, with special focus on rural areas, in 2003.
Although the epicenter was about 383 km from Urumqi, many people in the city felt its power.
People in the Ily Kazak autonomous prefecture, which borders Bortala, also felt strong tremors.
"The house was shaking for at least 30 seconds. I could hear a roaring sound coming out of the earth," said Zhao Xiao of Ily city. The regional government said about 600 houses and livestock sheds were damaged in Ily.
People in Urumqi, Karamay, Shihezi and Changji in Xinjiang also reported feeling the earthquake.