Shaking flusters Beijing travelers
By Cao Yin | China Daily | Updated: 2017-08-10 08:34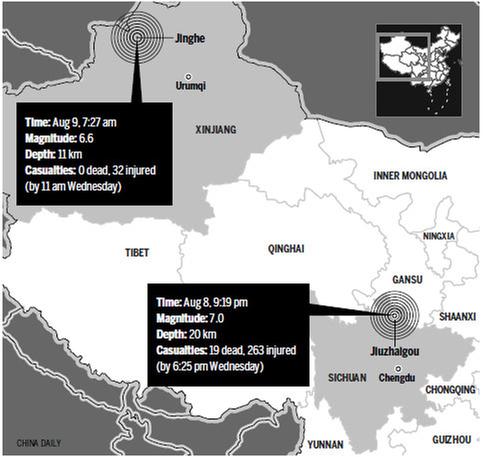 Cheng Ning, 38, from Beijing, was visiting Jiuzhaigou county, a scenic spot in northern Sichuan province, when it was hit by a magnitude-7.0 earthquake at 9:19 pm on Tuesday.
I was resting on a bed with my family in the Sheraton Hotel in Jiuzhaigou when the earthquake struck. The bed shook violently and the room trembled.
Feeling a little bit confused at the beginning but quickly realizing it was an earthquake, I ran downstairs with my wife and 10-year-old son.
Once we escaped to an open area in front of the hotel, I saw other tourists standing there. Some had been taking a shower and carried bath towels from their rooms, while others were just wearing shorts. Everyone looked anxious and frightened.
Hotel staff members organized things quickly and provided bathrobes and quilts for us to keep warm.
Other inns around the area opened their doors and restrooms and supplied us with blankets - which was emotionally moving and also calmed our nerves. They deserve a thumbs-up.
But some tourists from other provinces, especially children, were still afraid to sleep or rest, repeatedly asking what was going on.
I estimate there were several hundred people camped out around our hotel.
My family and I arrived at Jiuzhaigou on Monday. On Tuesday afternoon we watched a program about the county. Ironically, it included a segment on the heavy earthquake in Wenchuan, Sichuan, in May 2008.
While watching, I told my son how serious the Wenchuan quake had been and gave him some knowledge about earthquakes. How was I to know we would experience one that night?
It was the first time I had experienced an earthquake of that magnitude.
Aftershocks hit the regions again and again throughout the night. But I felt safe as travel agencies arranged for tourists to leave Jiuzhaigou. Along the way we passed cars crushed by boulders that had tumbled down the mountain - reminders of the night that shook our family.
Cheng Ning told his story to Cao Yin of China Daily.