Database established to identify top talent
By Zhang Yan | China Daily | Updated: 2017-08-10 08:35
The All China Lawyers Association has established a database containing the details of 86 lawyers from 72 Chinese law firms and 121 lawyers from countries participating in the Belt and Road Initiative.
"The database will cultivate and reserve top lawyers who are familiar with the laws and regulations within Belt and Road countries to gain experience," said Wang Junfeng, the association's chairman.
"The plan will stimulate the development of an international legal services network among participating countries and provide high-level, international legal support to facilitate construction of the initiative."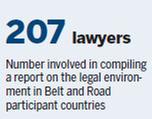 According to the association, the lawyers all work at top-tier law firms and have experience in tackling cross-border commercial disputes.
The 207 lawyers also participated in the compilation of the Legal Environment Report of Belt and Road Countries, a guide to laws on overseas investment, published in June.
"The database has laid a solid foundation for legal cooperation between domestic and foreign lawyers," said Jiang Junlu, deputy director of the association's international commission.
He added that it will aid communication between lawyers in China and overseas, and explore ways of working with international law firms to further promote cooperation with participating countries.
In addition, lawyers from all sides will review their experiences and draw lessons from Chinese businesses' failures in overseas investment and infrastructure construction.
The information will be added to the database to provide valuable advice for governments faced with strategic decisions.
Moreover, it will improve the recommendation system for top legal talent specializing in international cases, and actively recommend experienced lawyers with specialist panels, dispute resolution bodies and international arbitration institutions to Chinese businesses investing in participating countries.
"As the initiative develops, the database will be updated accordingly in terms of country and professional specialists, and a committee will be established to include more qualified law firms and lawyers," Wang said.