Performance of 'Liu Bei's Wedding' staged in Jingzhou
By Liu Xuanyi | chinadaily.com.cn | Updated: 2017-08-10 13:58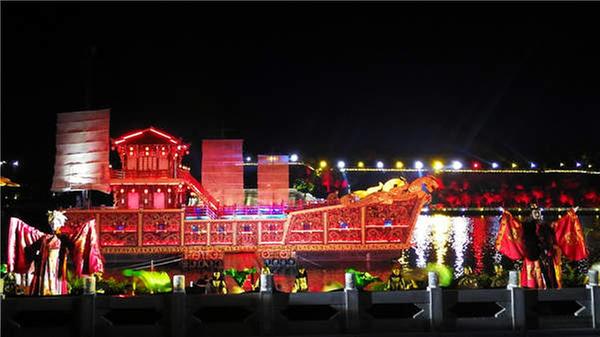 Liu Bei's wedding boat with dazzling lights. [Photo by Liu Xuanyi/chinadaily.com.cn]
A large-scale live performance of "Liu Bei's Wedding" was staged at Jiulongyuan Park in Jingzhou, Central China's Hubei province, on Aug 9, 2017.
Liu Bei was a powerful warlord and the founding emperor of the Kingdom of Shu during the Three Kingdoms (220-280) period in ancient China.
In Chinese classic Romance of the Three Kingdoms, he is portrayed as a virtuous and charismatic man who rises from a humble straw weaver to become emperor.
The show is based on the stories of "Liu Bei gets married" and "Liu Bei returns to Jingzhou after his wedding". Sun Quan, the emperor of the Kingdom of Wu, married his younger sister Sun Shangxiang to Liu Bei to fortify their alliance.
Combining fascinating light show, traditional dance, and water stunts, the performance was a thrilling and wonderful audio-visual experience.
The show was held as part of activities during a six-day event titled "Exploring the ancient Chu culture" for online media professionals, which began in Jingzhou on Aug 9.