Self-taught Chongqing deliveryman admitted to college
By Tan Yingzi | China Daily | Updated: 2017-08-18 08:55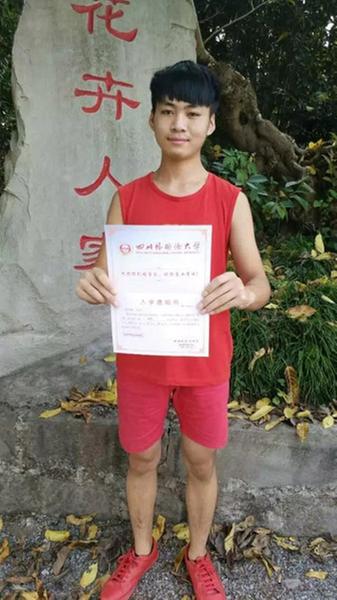 Mao Zhaomu.[Photo/chinadaily.com.cn]
Deliveryman Mao Zhaomu dropped out of high school after his first semester, but now the self-taught English learner has been admitted to one of China's top foreign studies universities.
The 18-year-old first hit the headlines in March after sending a text message in English to one of his customers, a student at Sichuan International Studies University.
"Hello, your phone was power off when I called you. Your meal have been put by me on the vending machine. Please carry it home after you see the message. Thank you. Have pleasant meal."
Surprised to receive a message in English from a deliveryman, the student posted a screenshot of it to Weibo. The post soon went viral.
Mao explained at the time that he sent the message in English to practice his language skills, and because he thought all SISU students would be sure to understand.