Rising online sales leaving bookstores on the shelf
By Hou Liqiang and Liu Kun | China Daily | Updated: 2017-08-18 08:57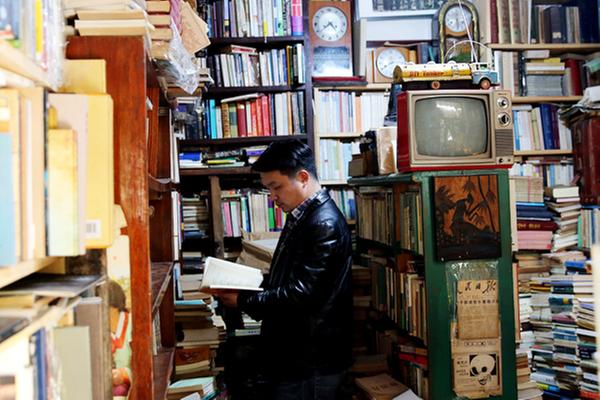 A customer browses the offerings at the Youhe Bookstore in Wuhan, capital of Hubei province. HOU LIQIANG/CHINA DAILY
While it's common to see people holding cellphones as they ride China's subways, it's becoming increasingly rare to see more than two people in the same car reading books. Moreover, old-fashioned outlets that sell nothing but books are also becoming harder to find on China's streets.
Wuhan, the capital of Hubei province in Central China, is a microcosm of the situation across the country. In the past two decades, thousands of bookstores have closed down in the city, which boasts a higher proportion of university students-all potentially avid book readers-than many other major metropolises. Last year, university students accounted for 1.06 million of Wuhan's population of almost 10.8 million.
According to Changjiang Daily, a newspaper in the city, in 2000, Wuhan was home to about 5,000 bookstores, but by 2015, the figure had fallen to 1,035. On the upside, Hubei Daily recently reported that the number rose by 10 percent last year.
Despite that seemingly good news, the reality is that life is hard for independent booksellers. Pressed by higher rents and competition from online bookstores, many bricks-and-mortar stores around the country are struggling to survive. Faced with low profits, or even losses, some owners are determined to keep their businesses alive simply because of their personal attachment to books. Douban, located near the prestigious Wuhan University, has been in operation for more than 10 years, but it has been forced to relocate at least three times as a result of rising rents, according to Peng Ni, 25, who has managed the store for three years.
In a good month, Douban can make about 10,000 yuan ($1,495), but the monthly rent is 4,000 yuan and other costs also bite into the profits, she said.
The rise of online bookstores has also hit the sector hard. A few years ago, bookstore owners found it profitable to purchase low-priced "worstsellers" in bulk from publishing houses and then sell them on. However, the same books now retail at much lower prices on online stores, with the inevitable result that profit margins at physical stores are being further eroded, she added.
Sign of the times
Last year, online book sales in China outstripped those at bricks-and-mortar stores for the first time, according to a report published by the Chinese Publishers Association in January, which noted that the value of online book sales reached 36.5 billion yuan, while offline sales stood at 33.6 billion yuan.
Peng said she has no choice but to control costs by purchasing fewer books and looking for cheaper business premises. If the problem becomes insurmountable, she will have no option but to fall back on her strategy for a worst-case scenario and move Douban to a residential area where rents are much lower.
Last year, when Douban's owners were considering closing the store, many customers urged them to use crowdfunding to attract funding. However, a trial period raised just 17,000 yuan, which was "far from enough", according to Peng.