Smart unmanned capsule hotel opens in Chongqing
By Tan Yingzi in Chongqing | chinadaily.com.cn | Updated: 2017-08-18 09:23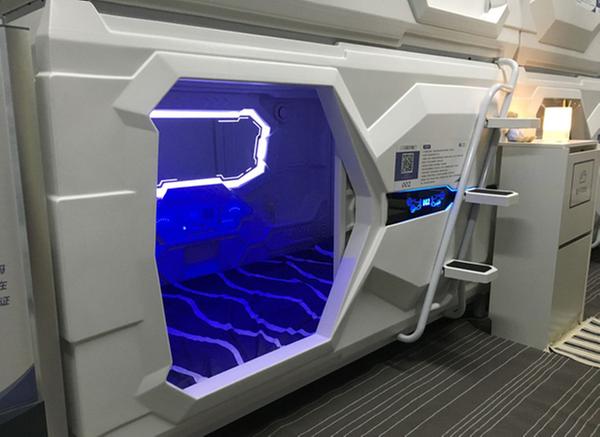 A look at a capsule room in an unmanned hotel in Chongqing. [Photo by Tan Yingzi/chinadaily.com.cn]
A smart capsule hotel operated by a WeChat account recently opened at Cybernaut Makerspace in Chongqing's Liangjiang New Area.
The hotel has four rooms shaped like a white space capsule and each room can accommodate one person.
The guests can register on the hotel's WeChat account and can make reservations, check in and check out by themselves using their mobile phones. So there's no hotel staff.
The hotel aims to provide a place for workers to rest, especially during the lunch break. It charges 5 yuan ($75 cents) per 30 minutes and 6 yuan during the lunch break.
The owner of the hotel plans to install about 200 rooms by the end of the year in Liangjiang New Area Internet Industry Park.
A capsule hotel, also known as a pod hotel, is a type of property first developed in Japan that features a large number of small "rooms" (capsules). The first capsule hotel in the world was the Capsule Inn Osaka in 1979.
In 2012, China opened its first capsule hotel in Xi'an, Shaanxi province.