Deaf-mute elderly rescued after spending nine days in mountain
By Liu Wei | chinadaily.com.cn | Updated: 2017-08-21 14:53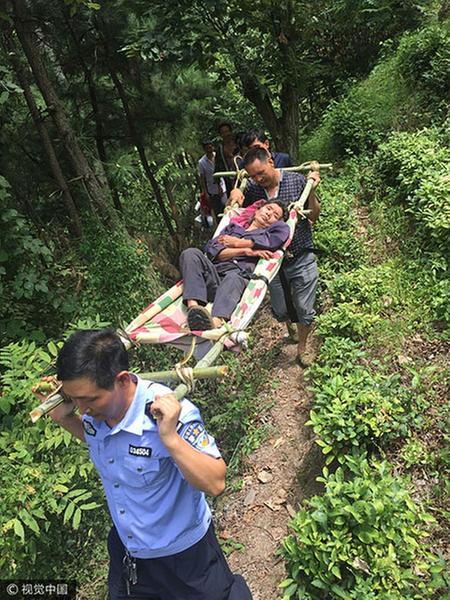 Rescue team carries Zhai Delan off the mountain in Shangluo, Shaanxi province on Aug 18. [Photo/VCG]
A 67-year-old deaf-mute woman who was lost in the mountain for nine days has been saved in Shangluo, Shaanxi province. as she was lost in the mountain when picking up herbs on Aug 9.
Zhai Delan and 60-year-old Zhang Demei, both cannot hear or talk, went to the mountain to pick up herbs on the morning of Aug 9.
Zhai and Zhang got separated on the way and Zhai got lost as she was not familiar with the routes.
Zhang went back home alone and thought Zhai had reached home. But she didn't contact Zhai when she got back.
Two days later, Zhai's family came to Zhang and realized Zhai wasn't with her as they had thought. The people from the village led by Zhang went out to the mountain looking for Zhai. The police also launched a search.
"We received the report five days after Zhai went missing," said Li Hong, local police chief.
According to Li, two rescue teams with over 60 people launched eight operations but found nothing. The rain also hampered the mission.
On Aug 17, the rescue team spotted human activity and guessed that Zhai had taken shelter there. They launched the search again.
On Aug 18, they found her unconscious in a field halfway up the mountain, with some herbs and an empty box of yoghurt. Zhai was in coma.
The rescue team immediately sent her to the local hospital and she made full recovery. It is reported Zhang survived on those herbs, the box of yoghurt and rain water. "She's so tough. This is a miracle," the local police chief said.