Open-minded or forced? Chinese graduates go slowly in finding jobs
Xinhua | Updated: 2017-08-22 10:05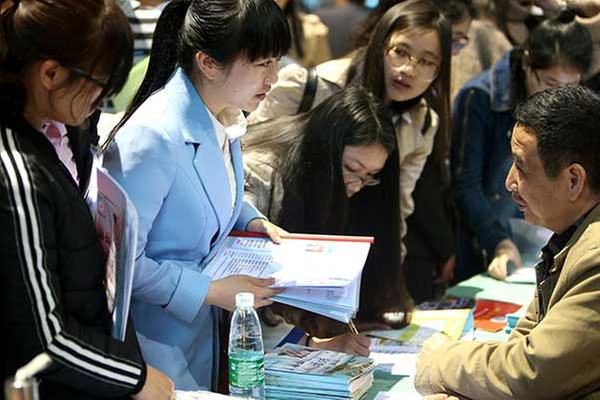 Graduates from normal universities in Hunan province interact with their potential employers at a job fair in Hengyang in March. [Peng Bin/For China Daily]
BEIJING -- The future is not so bright. Almost eight million fresh college graduates are looking for jobs in China this year, a new high in recent years. But many do not seem to care much whether they find one or not.
They are devotees of "slow employment", sort of a trendy lifestyle that advocates a not-so-fast attitude in finding a job after graduation.
Some, like Xia Chuanqi, 24, planned for it. After bidding farewell to campus life in Sichuan College of Culture and Arts in July, Xia went to Bazhou in northeast Sichuan province and became a volunteer. He had no idea how long he would stay, but only knew he wanted to be there.
"I interned at a local TV station in college and had been to several impoverished places in remote Sichuan. There, I saw people in need of help and that image stayed in my head. I come from the countryside, and I want to give them a hand and pull them up," he said.
Majoring in performing arts, many of Xia's classmates went off to seek fame and fortune in the megacities, dreaming of overnight success. Xia is quite clear about how unlikely that would be.
"Many actors lack real life experiences, so I want to do something down to earth and become a better person. Even if I decide not to become an actor, these experiences will stand me in good stead and will do me good," he said.
Xia speaks with a certain amount of authority. He seems like a person who already knows himself quite well.
"I have no idea of what my future holds, but first and foremost, I want to be a man with a sense of social responsibility," he said.