Wildlife park asked to limit cars after bear mauls man
By Chen Ziyan | chinadaily.com.cn | Updated: 2017-08-22 14:23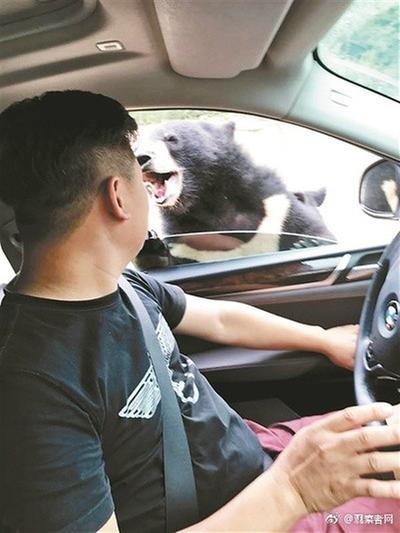 A video clip show a black bear attacking the man at Beijing Wildlife Park on Friday. [Photo/Sina Weibo]
Local authorities have ordered a wildlife park in Beijing to limit the number of cars driven by tourists into the park after a man was attacked by a bear.
The man was attacked when he attempted to feed a black bear through his car window at Badaling Wildlife World in Yanqing district of Beijing on Friday.
On Monday night, the district tourism authorties said on its official website that it has asked the park to carry out improvements as soon as possible and put a cap on the number of vehicles.
The horrifying moment was captured by the man's friend at the passenger seat who was planning to take photos for him feeding the bear. The man in the driver's seat slightly opened the window on his side, to throw snacks at the bears near his car in a "wild beasts enclosure" at the park, but was suddenly attacked by the bear.
According to the Beijing News, the man tried to push the button to close the window, but the anti-pinch function installed in the car was activated by the "attack move" and instead of closing the window it opened it further, which led the man to suffer a serious bite on his left arm.
Fortunately, the man was able to accelerate his car and flee to a safe place. Meanwhile, the wardens of the wild park were alerted and scared the bears away. The man was rushed to the hospital, where he received vaccines.
This is not the first time a tourist was attacked at the wildlife park. Last July, a woman was mauled to death and her daughter was seriously injured by tigers after they got out of their car. Since then more warning signs were posted in the park to warn the visitors, including not to leave cars or feed the animals at the "wild beasts enclosure".
A latest video uploaded by the park showed that the wardens drove away the bears surrounding the man's car when they found the man was attempting to feed the bears. The incident happened just after the wardens told him not to open the car window and drove away to patrol other areas.