US Navy orders operational pause, comprehensive review after collision
Xinhua | Updated: 2017-08-22 11:31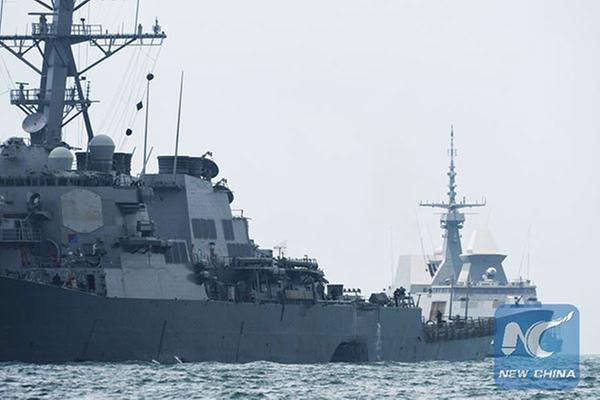 USS John S. McCain (L) is seen at sea off Singapore's Changi Naval Base, on Aug 21, 2017. [Photo/Xinhua]
WASHINGTON - The US Navy said on Monday that it had ordered an operational pause of its fleets globally and a comprehensive review of the US Pacific-based 7th Fleet after a collison of a US destroyer and a oil tanker near Singapore early Monday.
The USS John S. McCain collided with a merchant vessel while underway east of the Straits of Malacca and Singapore at 6:24 am local time (2224 GMT on Sunday), leaving 10 sailors missing and five others injured.
The review should seek the root causes of the incidents, said Admiral John Richardson, the 31st Chief of Naval Operations, in a video published on the US Navy's official twitter account.
The investigation will examine the process by which the US Navy trains and certifies its forces that were forward deployed in Japan, Richardson said.
The investigation team should be a "broad and diverse" one, with people inside and outside the Navy, the senior navy official added.