Couple defend rights to street
By Lia Zhu in San Francisco | China Daily | Updated: 2017-08-22 07:26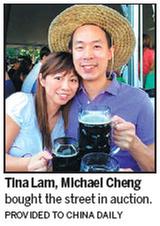 A Chinese-American couple said they will stand by the city of San Francisco and defend their ownership of a street in one of the city's richest neighborhoods, where the homeowners want the purchase negated.
Michael Cheng and Tina Lam, both real estate investors based in San Jose, bought Presidio Terrace, a private oval street, for $90,100 in 2015, when the city put it up for auction because the homeowners association failed to pay property tax bills for three decades.
After learning of the sale of the street and sidewalks, the homeowners sued the city. They petitioned the city Board of Supervisors for a hearing to rescind the sale. A hearing is scheduled for Sept 5.
"We are going to ... stand by the city because they did everything correctly and we did everything correctly, according to the law," said Cheng, who was born in Taiwan and has lived in the Bay Area for 34 years.
The couple were named in the lawsuit but are not directly being sued. "It's them (homeowners) against the city," Cheng said.
The gated street is lined by 35 multimillion-dollar mansions. Past homeowners have included US Senator Dianne Feinstein, House Minority Leader Nancy Pelosi and the late mayor Joseph Alioto.
Homes at the exclusive Presidio Terrace used to be sold to whites only until racial covenants were banned in 1948.
Cheng and Lam found the racial language in the original covenants when they were doing research two years ago.
"It didn't feel good that people like me were racially bullied, because they specifically didn't want Chinese or Japanese people in that community," Cheng said.
"Owning a piece in that community now is particularly satisfying," he said. "I want to continue to stand up for all Chinese people, that we have the right to own this piece that was properly purchased."
liazhu@chinadailyusa.com