Horse riding graduates get off to a good start
By Hou Liqiang in Beijing and Zhou Lihua in Wuhan | China Daily | Updated: 2017-08-23 08:02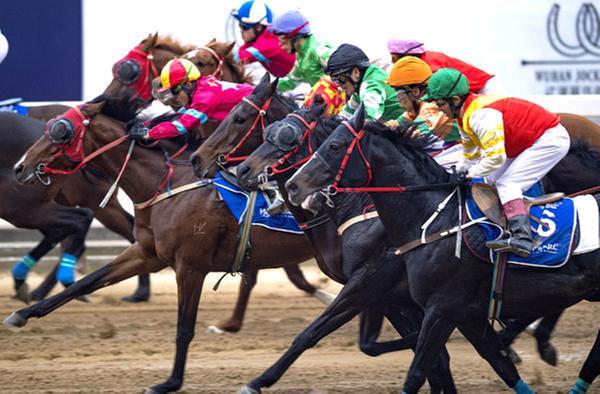 Jockeys compete in a race this year in Wuhan, Hubei province, where the local government is trying to build the country's horse racing capital.[Photo/Xinhua]
New majors offer a leg-up for those entering the fast-paced equine industry
A historic high of 7.95 million university graduates will join the jobs market this year. While some are struggling to find work, those with horse riding-related majors from Wuhan Business University are at ease.
All of the 150 graduates secured jobs up to six months before they graduated in June.
Instead of graduates approaching employers, companies came to the university to compete for talented individuals.
"About 200 clubs turned to us hoping to join a jobs fair on our campus for graduates of horse riding-related majors. We only gave 16 of them passes," said Xia Yunjian, dean of the university's School of Physical Education and Equine Industry.
Many clubs donated horses to the university for teaching use in the hope the university will help them find the graduates they need. All 12 horses the university now has are donated ones, Xia added.
Located in Wuhan, Hubei province, where the local government is trying to build China's horse racing capital, the university established its horse racing industry management major in 2008, and is said to be the first university with such a major in the country.
The university also has an equestrian sports management major.
Although about 1,000 students with horse riding-related majors have graduated from the university and more than 10 universities around the country have set up similar majors, there are still far from enough qualified graduates in the equine industry.
"The demand for horse riding-related talent vastly outstrips the supply," said Xia, adding that many clubs turned to the university looking for interns to help their businesses, but the university had to decline many of the requests.
A sharp increase in the number of clubs may well explain the rising demand.
The number of equestrian clubs in China shot up from 100 in 2008 to 907 at the end of last year and is still rising by about 100 a year, said Kuang Zuosheng, director of the Shanghai Equestrian Sports Management Center, at a horse industry seminar in Shanghai in April.
Xia said his university plans to invest almost 110 million yuan ($16.5 million) to build facilities that will cover about 14 hectares on the campus. The facilities, including three training grounds and an 800-meter horse racing track, will be used to host the Military World Games in Wuhan in 2019.
The university is also going to build a China-French equestrian school that will cover about 67 hectares outside the current campus, hoping to tap into French experience in cultivating horse-related talent.