Moon's shadow races across North America
Associated Press | Updated: 2017-08-23 05:11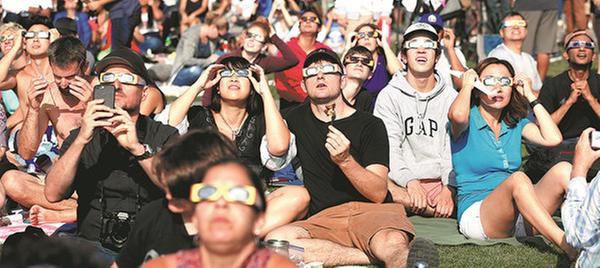 People watch the solar eclipse on the lawn of Griffith Observatory in Los Angeles on Monday. MARIO ANZUONI / REUTERS
PORTLAND, Oregon — stars came out in the middle of the day, zoo animals ran in agitated circles, crickets chirped, birds fell silent and a chilly darkness settled upon the land Monday as the United States witnessed its first full-blown, coast-to-coast solar eclipse since World War I.
Millions of people gazed in wonder at the cosmic spectacle, with the best seats along the path of totality that raced 4,200 kilometers across the continent from Oregon to South Carolina.
"It was a very primal experience," Julie Vigeland, of Portland, Oregon, said after she was moved to tears by the sight of the sun reduced to a silvery ring of light in Salem.
It took 90 minutes for the shadow of the moon to travel across the country. Along that path, the moon blotted out the midday sun for about two minutes at any one place and people gathered in stadiums, parks and backyards to watch.
It was, by all accounts, the most-observed and most-photographed eclipse in history, documented by satellites and high-altitude balloons and watched on Earth through telescopes, cameras and protective eyeglasses.
Passengers aboard a cruise ship in the Caribbean watched it unfold as Bonnie Tyler sang her 1983 hit Total Eclipse of the Heart.
At the White House, despite all the warnings about the risk of eye damage, President Donald Trump took off his eclipse glasses and looked directly at the sun.
The path of totality, where the sun was 100 percent obscured, was just 90 to 120 km wide. But the rest of North America was treated to a partial eclipse, as were Central America and the upper reaches of South America.
NASA reported 4.4 million people were watching its TV coverage midway through the eclipse, the biggest livestream event in the space agency's history.
Associated Press