Commander of US Navy's 7th Fleet relieved of duties following string of warship accidents
Xinhua | Updated: 2017-08-23 23:35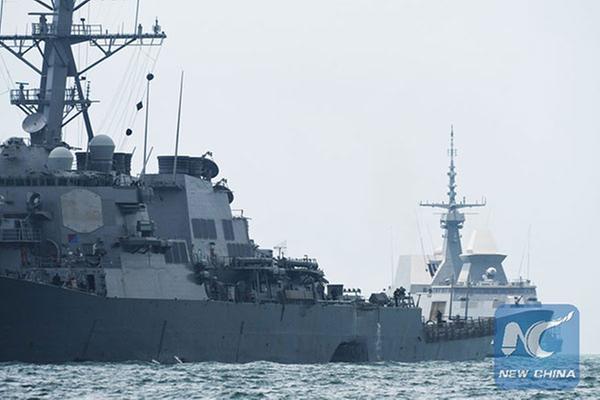 USS John S. McCain (L) is seen at sea off Singapore's Changi Naval Base, on Aug 21, 2017. [Photo/Xinhua]
TOKYO - The commander of the US Navy's 7th Fleet was relieved of his duties following a number of accidents involving warships, local media reported on Wednesday.
According to Japanese news reports, Vice Adm. Joseph Aucoin was relieved of his duties due to a loss of confidence in his ability to command.
Adm. Scott Swift, commander of US Pacific Fleet, dismissed Aucoin on these grounds, and Rear Adm. Phil Sawyer, who has been promoted to Vice Adm., will take over the responsibilities with immediate effect, local media reported.
The dismissal follows four Navy-linked accidents in the Pacific, including two fatal collisions that left some sailors dead and missing.
The string of accidents have occurred since late January.
Swift was quoted as saying that the accidents cannot be viewed in isolation and that the Navy will review all of its ships in the Pacific in terms of training and assessments of each vessel, as well as focusing on its ships' navigation and mechanical systems.
He also said that bridge resource management will also be a focal point in the reassessment, local reports stated.
Among the Navy's major incidents of late, a collision between the US Navy's guided-missile destroyer USS Fitzgerald and a Philippine container vessel in waters about 100 kilometers southwest of Yokosuka, south of Tokyo, in June, became major headline news in Japan.
Seven sailors lost their lives in the collision that left the Fitzgerald heavily damaged and needing to be towed back to its port in Yokosuka.
The US Navy, according to local media, said that serious mistakes had been made by crew members on the Fitzgerald and that its bridge team had lost situational awareness.
Other than the Fitzgerald's captain, other crew members are also facing non-judicial punishments.
The 7th Fleet comprises up to 70 ships and submarines, 140 aircraft and some 20,000 sailors.
The home port of the 7th Fleet is the Yokosuka Naval Base, located about 65 kilometers south of Tokyo.