Typhoon makes mess in S. China
By Li Wenfang in Guangzhou and Carrie Qiu in Hong Kong | chinadaily.com.cn | Updated: 2017-08-24 07:01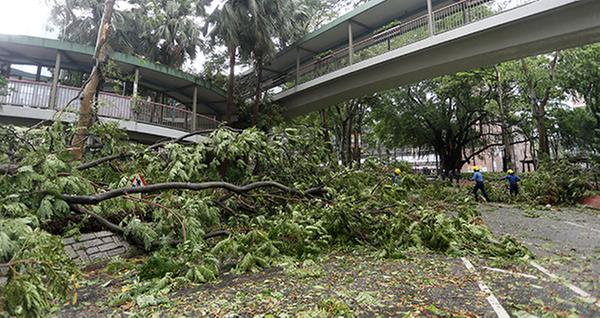 Firefighters remove fallen trees in the Tsim Sha Tsui area of Hong Kong on Wednesday. [Photo by EDMOND TANG/CHINA DAILY]
Several deaths, many injuries are reported as Hato sweeps westward
Hato, the strongest typhoon to hit the country this year, ravaged coastal regions in South China with fierce winds and waves.
Eight people died in the Macao Special Administrative Region as the typhoon brought chaos and destruction to the enclave after sweeping through neighboring Hong Kong.
Local media reported severe flooding, showing cars underwater and people swimming through Macao's streets. The region's mega casinos were running on backup generators.
A 30-year-old man died after being hit by a falling wall in strong winds; a 62-year-old man fell from his home on the 11th floor of a building; and a 45-year-old tourist from the Chinese mainland died after being struck by a car. Two people were found dead in a basement of a grain and oil shop. Another two people were missing.
In Hong Kong, the weather observatory issued its highest warning for the second time since 2000. The first was in 2012. As of Wednesday evening, a total of 121 people had been injured, according to the Hong Kong government.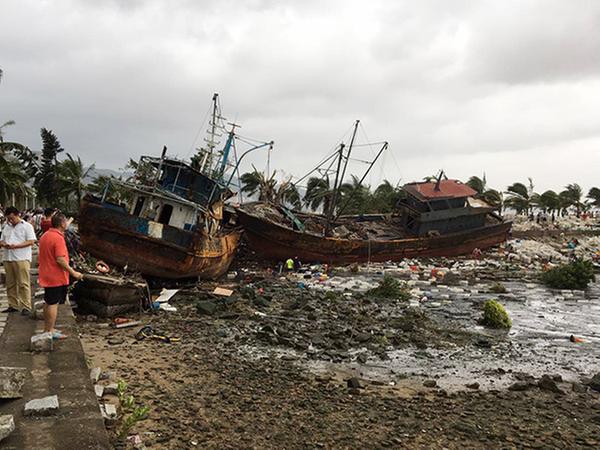 Fishing boats litter the shore near Qinglyu Road in Zhuhai, Guangdong province, on Wednesday, after being pushed by the typhoon and tides. [Photo by LI JIANSHU/CHINA DAILY]
5-meter waves
A residential area along the east coast of Hong Kong Island-Heng Fa Chuen-was among the most severely affected areas in the city. Videos online showed raging winds scooping seawater at the banks of the area's promenades, forming 5-meter-high waves that washed over inner sidewalks.
Still, some people enjoyed having the day off because of the storm. Roxy Blanco of Los Angeles brought her dog to the flooded New Praya promenade in Kennedy Town.
"He loves water and now he got a little bit crazy. I am happy to see him being happy," Blanco said.
Hato triggered the first red alert to be issued by the Central Meteorological Center. The typhoon made landfall in the Jinwan district of Zhuhai, Guangdong province, at 12:50 pm on Wednesday, with winds at the center raging at up to 162 kilometers per hour. Four people died in Zhuhai.
In Zhongshan, three people were killed. A woman riding a motorcycle died after being struck by a fallen tree, and a man was killed by a pickup truck that was blown over by the strong wind, Southern Metropolis Daily reported.
Eight people were injured in Shenzhen, two seriously, by falling items such as glass, sheet metal and scaffolds. Emergency shelters accommodated 11,142 people in the city, with daily necessities provided.
Fallen trees blocked a section of the western coastal expressway in Guangdong on Wednesday morning, stranding vehicles for several kilometers, Guangdong TV reported. Some coastal expressway sections in the province were closed.
In Zhuhai, some makeshift living units at a construction site collapsed and hit a number of buses parked nearby. Powerful winds blew over a large delivery truck on the road, and the arm of a high-rise crane fell at a construction site. A window in a residential building in the city blew away and hit a parked car at the roadside.
People and vehicles were barely seen on scenic Qinglyu Road in Zhuhai, which saw big trees uprooted and was flooded by waves roaring in along the seaside. Bus services in the city were halted and some bridges and roads were closed.
Damage to electrical cables disrupted the operations of six water plants, leading to the suspension of water supplies in the Xiangzhou, Doumen and Jinwan areas of Zhuhai.