Kidnap suspect lawyers seek delay
By Zhang Ruinan in New York | chinadaily.com.cn | Updated: 2017-08-25 11:04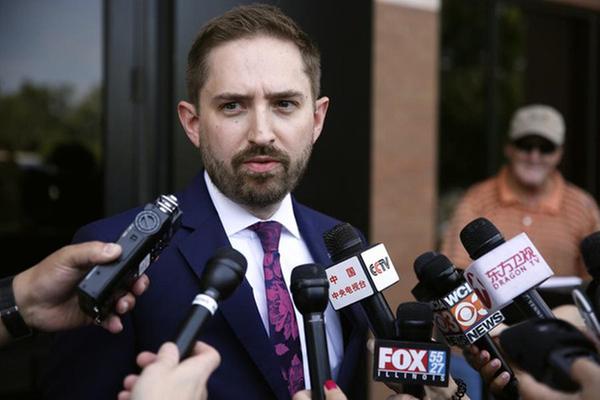 Evan Bruno, one of the lawyers representing Brendt Christensen, speaks to journalists outside a court in Urbana, Illinois, July 20, 2017. [Photo/Xinhua]
Lawyers representing Brendt Christensen plan to request a delay to the start of the trial to prepare their defense of the 28-year-old former University of Illinois graduate student who is charged with kidnapping visiting Chinese scholar Zhang Yingying, who remains missing.
Christensen's trial was set to begin on Sept 12. But Evan Bruno, one of three layers representing Christensen, said on Thursday that they plan to file a motion asking the court to push the date back.
Bruno said they needed more time to review the huge amount of evidence received from the government — more than 1,000 pages of police reports from federal and state law-enforcement, as well as several terabytes of video collected from various sources.
"We've already got some of the evidence from two weeks ago, but there is a lot more evidence that we have not received yet; they are not ready to be delivered to us," said Bruno.
Bruno said the pretrial hearing for next Monday, when Christensen makes his fourth appearance at the federal courthouse in Urbana, would be very simple and brief.
The US Attorney's Office said they have no objection to the defense's request and agree that it's to be expected in a case with this amount of evidence, according to Fox News.
"I anticipate the judge will address our motion to continue on Monday, and the government will indicate they don't object to the motion," said Bruno. "Then, the judge will reschedule the next trial date, maybe one or two months away."
Wang Zhidong, a lawyer representing the Zhang family, said the delay is not unexpected and would not have any impact on either the investigation or the trial.
"That's typical in any case where there is a lot of evidence to go through," said Wang.
The goal of GoFundMe donations for the Zhang family has been raised from $150,000 to $500,000.
Zhang's boyfriend, Hou Xiaolin said at a press conference on Tuesday said the family would continue to use the more than $137,000 raised so far for the family's living expenses in the US, a $50,000 reward for information about Zhang's location, legal assistance and other expenses. The family also plans to raise more money to hire a private investigator at an estimated cost of $500,000 to $1 million.
It has been more than two and a half months since Zhang was last seen on June 9. The FBI has said she is presumed to be dead.