Student pedals bike 4,300 km to start university
By Guo Kai | chinadaily.com.cn | Updated: 2017-08-30 11:32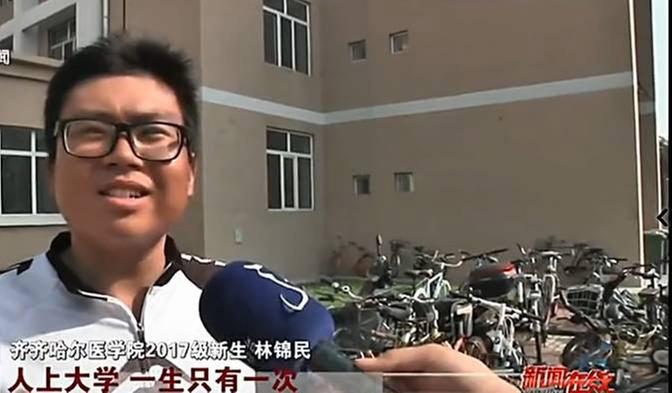 Lin Jinmin in the Qiqihar Medical University in Northeast China's Heilongjiang province. [Photo/Heilongjiang TV]
A freshman was so excited to be admitted to a university this year that he rode a bike more than 4,300 kilometers across the country to his university in 22 days.
Lin Jinmin, who lives in Pingnan county, Guigang of Southwest China's Guangxi Zhuang autonomous region, received an admission letter from the Qiqihar Medical University in Northeast China's Heilongjiang province on July 23.
Lin said that it is a very important achievement for a person to be admitted to a university, and he decided that riding his bike would be a unique way to get there, rather than taking more conventional transportation, such as the trains, plane or a bus.
"Riding there, I want to hone the spirit of persistence and fearlessness," he said.
Lin started his journey on Aug 1, riding across eight provinces and two municipalities, and finally reached his university on Aug 22.
During the journey, he encountered wind and rain, suffered through traffic congestion, roadwork, tire punctures and hunger. When he reached a university, such as Tsinghua University, Harbin Institute of Technology and Northeastern University, he would take a photo in front of the university's gate as a souvenir.
His cross-country feat has made him famous among his classmates. Lin said he will take another ride in the future.