HK sends Buzz Lightyear 'to infinity... and beyond'
By Tommy Yuen in Hong Kong | chinadaily.com.cn | Updated: 2017-08-31 21:44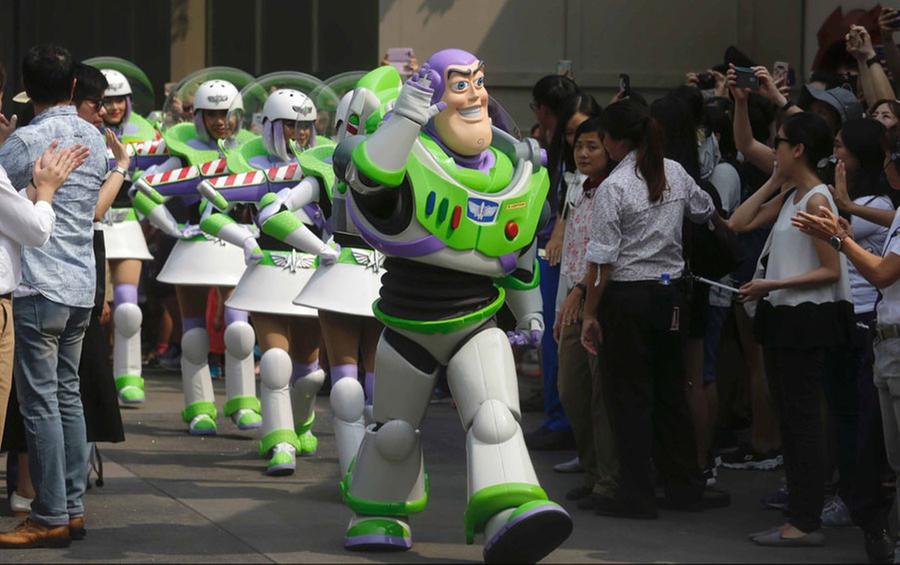 Disneyland character Buzz Lightyear waves to fans attending a farewell ceremony of the Buzz Lightyear Astro Blaster at the Hong Kong Disneyland on Aug 31, 2017. Buzz Lightyear Astro Blasters, located in Tomorrowland, will be transformed into a new Marvel-themed interactive shooting game, making it the second Marvel-themed attraction following the popular Iron Man Experience. [Photo/chinadaily.com.cn]
Hong Kong Disneyland's popular shooting-gallery ride – the Buzz Lightyear Astro Blasters – finished service on Thursday. It will be remodeled into a new Marvel-themed interactive shooting game.
Buzz Lightyear's last day brought 300 of his fans to the theme park to bid farewell to the ride. Buzz Lightyear is one of the main characters in the Disney movie series Toy Story.
The 12-year-old attraction in the "Tomorrowland" section of the theme park will be transformed into the city's second Marvel-themed attraction following the popular Iron Man Experience.
Meanwhile, the theme park distributed free Buzz Lightyear-themed stickers to guests as souvenirs at "Tomorrowland" in the run-up to the Thursday shutdown.
From next month visitors can find Buzz Lightyear, as well as other Toy Story characters, in Toy Story Land.
The park has not said just when the Marvel-themed attraction will be open to the public or named the character, or characters, to be featured.