Report: On holidays, road trips rule
By ZHAO XINYING | China Daily | Updated: 2017-08-31 08:43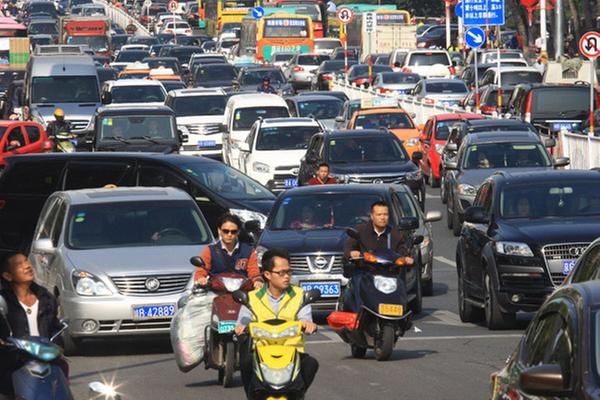 A road is packed with vehicles in Sanya, Hainan province, during Spring Festival in February last year. [Photo/NAN TIAN/CHINA DAILY]
Road trips-especially short ones-are a major form of travel during national festivals and holidays, according to a report released on Wednesday by the China Tourism Academy.
Most road trips are made by middle-class people, the report said. The average distance traveled per trip during the first half of 2017 was 142.8 kilometers. And 80 percent of the trips covered a distance of 50 to 400 kilometers.
In 2016, Chinese people made a total of 4.44 billion trips. Of those, about 58 percent were road trips, according to the China National Tourism Administration.
Tourists from Guangdong province, with 22.92 million road trips during the first six months of the year, appeared to be the most passionate about overland trips, followed by tourists from Jiangsu, Sichuan, Hebei and Shandong provinces.
Wang Feng, a tourism data engineer at China Telecom E-Cloud who participated in generating the report, said the number of road trips made by tourists is related to factors such as transportation, population, the number of registered vehicles and the regional economy.
"That's why more road trips are made in East China," he said.
The report said about 40 percent of domestic tourism revenue annually comes during the seven national holidays-New Year's Day, Spring Festival, Tomb Sweeping Day, May Day, Dragon Boat Festival, Mid-Autumn Festival and National Day.
Last year, 1.4 billion trips were made during those holidays, accounting for almost one-third of all trips made during the year.
Three holidays last year-Spring Festival, National Day and Tomb Sweeping Day-generated tourism revenue of nearly 900 billion yuan ($137 billion), accounting for about 23 percent of the year's total, the report said.
Zhang Youyin, a researcher who helped compile the report, said tourists' consumption and choice of destination are greatly affected by the length of the holiday, climate, temperature and distance.
"For example, tourists usually choose nearby destinations for road trips, such as suburbs or outskirts of their city, during three-day holidays, such as Tomb Sweeping Day and May Day. But during seven-day holidays, such as Spring Festival and National Day, people like to travel farther," he said.
"Also, for holidays in winter, such as New Year's Day, people often travel to South China to escape the cold or go north to experience ice and snow," Zhang said. "Large numbers of tourists prefer the coasts and beaches of East China for holidays in summer."