650 million trips expected during National Day holiday in China
chinadaily.com.cn | Updated: 2017-08-31 15:07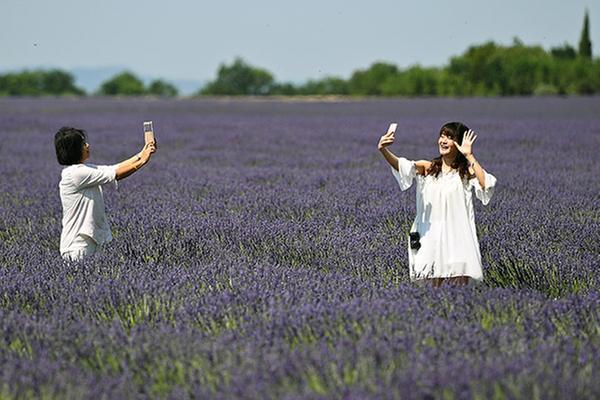 Chinese tourists make selfies in a lavender field in Valensole, southern France, June 18. [Photo/Agencies]
If you made plans for the Golden Week holiday in October, this might not be good news.
Ctrip, China's largest online travel agency, released a report about travel trend in the holiday period that showed popular destinations will be full of tourists.
During the first week of October, the golden week of holiday, 650 million domestic trips are expected to be made in China and over six million people will travel abroad, according to the report.
This will be the longest public holiday, eight days, as Mid-Autumn Festival will join the National Day holiday.
According to Ctrip, the most popular travel length is four to six days. At the same time, the number of people who pick travel plans of seven to 10 days and over 10 days have risen by 140 percent and 300 percent respectively, compared to the same period of last year.
Thailand, Japan and US are the top 3 countries favored by Chinese tourist this year.
Ctrip also predicts next month, the number of people who book trips to countries like Japan, Thailand, Indonesia and Cambodia with easy visa application process and short travel length is going to grow.
Domestic travel is even hotter than overseas travel. Many travel desinations will have double visitors than that of last year.
Provinces like Gansu, Xinjiang and Inner Mongolia that were not so popular travel destinations are in big demand thanks to the Belt and Road Initiative.
The report from Ctrip said that between the summer holiday in August and the National Day holiday in October, for the prices of travel products will fall. People who are able to travel around this time should definitely avoid the madness of the rush expected in October.