Recapturing the moment
By Cang Wei in Nanjing | China Daily | Updated: 2017-09-07 09:08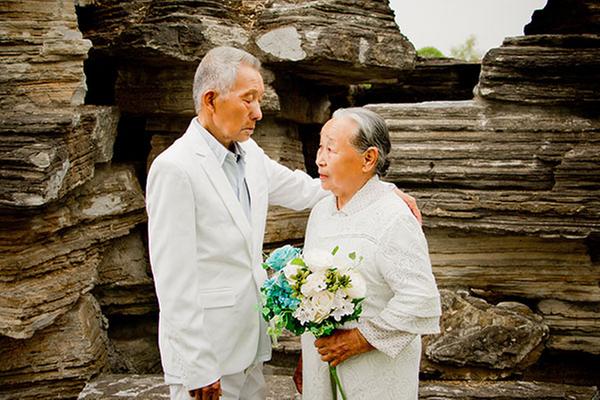 Yin Qixiang and his wife, Si Meixiu, pose for a wedding photo taken by students from Nanjing University of Aeronautics and Astronautics in Jiangsu province.[Photo prvided to China Daily]
Wedding photos of happily married couples show value of love
When 69-year-old Shi Youhe saw his wife of 43 years wearing her wedding dress and holding a bridal bouquet, he could not help but cry.
"I'll be with you for the rest of my life," he said as he presented her with the flowers, dressed in a white suit.
The couple, from Nanjing in Jiangsu province, were realizing a decadeslong dream. They were finally having their wedding photos taken.
Shi, a retired military officer, was absent from the ceremony in which he and Wang Xiuming, now 68, were wed. He was on a tour of duty in neighboring Anhui province at the time.
Wang was left holding a rooster - a local tradition for women getting married to an absent husband.
"I feel sorry for my wife," Shi said. "She has led a hard life and took care of all the family while I was far away from home."
Besides their wedding, Shi also missed the birth of their first child. He did not even meet his daughter until she was 4 years old.
Wang would often write to her husband, promising to take good care of both their child and his parents. Whenever he recalls those letters, Shi has tears in his eyes.
Yin Yong, a student from Nanjing University of Aeronautics and Astronautics, said he and his peers offered to take Shi and Wang's photos to remind the youth of today how precious love is.