College in Hubei buys luxury cars for class
chinadaily.com.cn | Updated: 2017-09-07 13:32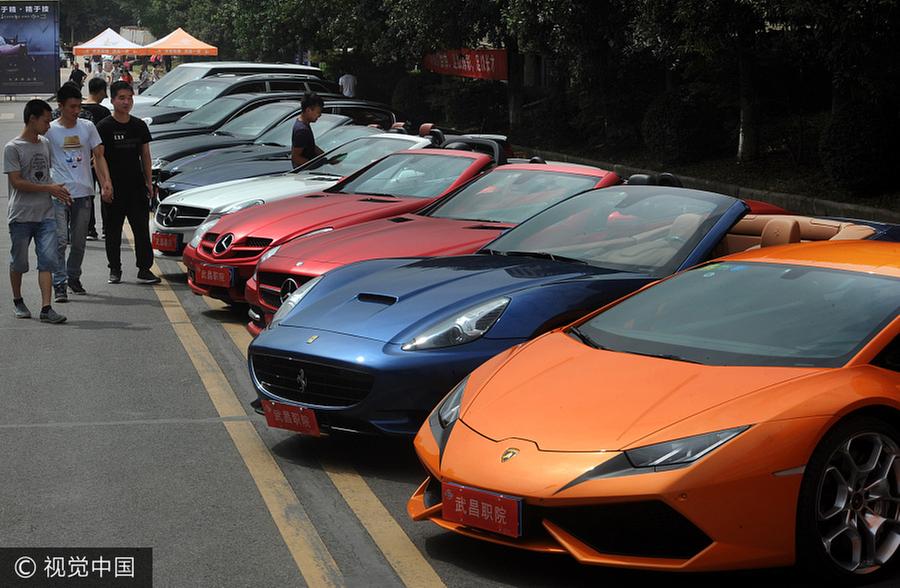 The luxury cars including Maserati, Ferrari and Porsche.[Photo/VCG]
Twenty luxury cars, including Maserati, Ferrari and Porsche, were parked at the campus of Wuchang Polytechnic College in Hubei province to welcome its freshmen, Changjiang Daily reported on Wednesday.
The cars, worth more than 10 million yuan ($1.53 million), were bought by the college for field training of the students enrolled in vehicle detection and auto maintenance major, nicknamed "luxury cars class", this year.
Liu Yuanjin, in charge of the class, said, "Students can have in-depth knowledge of the engine and installed devices by dismantling and assembling the vehicle parts".
"Vehicle detection and breakdown services do require strong knowledge, so the college has built a 4,600-square-meter training center for high-end car brands to enhance their skills," added Liu.
It is the second year of the "luxury cars class" with 80 students admitted this year. Sixty students enrolled last year have received offers from top car services suppliers in Zhejiang, Jiangsu and Hubei provinces.