Chinese universities among world's best
By WANG MINGJIE | China Daily UK | Updated: 2017-09-07 16:41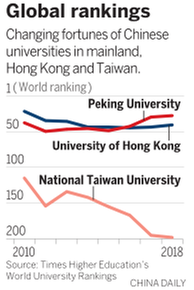 Two of China's leading universities have been ranked among the world's top 30 education institutions.
The latest edition of the Times Higher Education's World University Rankings lists Peking University in 27th place, followed by Tsinghua University in 30th.
The global ranking of 1,000 universities in 77 countries is dominated by the UK, with the University of Oxford in top spot and Cambridge University in second. The California Institute of Technology and Stanford University were joint third.
Both Peking and Tsinghua universities overtook several prestigious institutions in the US, Europe and Australia.
Peking University, which moved up two places since the last list was published, is tied with the University of Edinburgh and New York University.
Tsinghua University rose five places, overtaking the University of Melbourne, Georgia Institute of Technology and the Ludwig-Maximilian University of Munich.
Fudan University climbed 39 places to 116th position, while the University of Science and Technology of China ranks 132th. Nanjing University, Zhejiang University and Shanghai Jiao Tong University, all entered the top 200.
The Chinese mainland has seven universities in the top 200.
Out of 13 Chinese universities in the top 200, five are from Hong Kong-the University of Hong Kong (40th), Hong Kong University of Science and Technology (44th), Chinese University of Hong Kong (58th), City University of Hong Kong (119th), and Hong Kong Polytechnic University (182nd); one is from Taiwan-National Taiwan University (198).
The Times Higher Education World University Rankings showed that China's "higher education improvement is real and growing", said rankings director Phil Baty.
"With two top-30 representatives for the first time in the 13-year history of the rankings, China's leading universities are truly now part of the global elite and overtaking prestigious universities in the US, UK and Europe," Baty said.
It is the first time that two British universities have occupied the top spots in the rankings.
Other UK universities in the top 50 are Imperial College London (8th), University College London (16th), the London School of Economics and Political Science (25th), University of Edinburgh (27th), and King's College London (36th).