Villagers launch lucrative careers in sand-control, boosting income
By CAO YINGYING | China Daily | Updated: 2017-09-12 08:08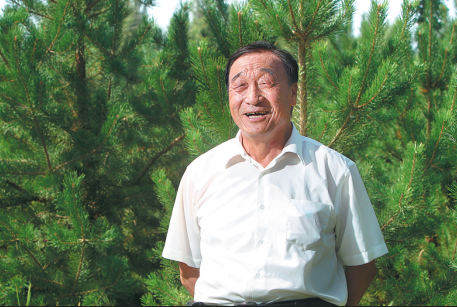 Shi Guangyin, a villager in Shaanxi province, establishes a sand-control company with fellow farmers to increase locals' income.[Photo provided to China Daily]
Shi Guangyin, a 65-year-old villager from Dingbian county, Shaanxi province, established a sand-control company with other farmers to develop a system to benefit locals and the local environment.
In 1978, when the government issued a policy supporting afforestation projects in North China, aiming to curb desertification and soil erosion, Shi and some villagers wanted to get involved and to change the situation, launching their careers in sand control.
At first, Shi and six partners signed a contract with the township government to oversee 200 hectares of sand.
To raise money to buy saplings, Shi sold his sheep and took out loans from rural credit cooperatives. With the help of the rain, 87 percent of their saplings survived.
Shi decided to set up a sand-control company in 1984.
Zhu Anjun, who was an accountant at the company at that time, recalled: "The successful experience was highly praised by the Shaanxi government and Shi shared his experience with fellow villagers."
But, in their subsequent efforts, the company contracted more than 1,000 plots of barren land covering 3,900 hectares, and 90 percent of the saplings were killed by strong winds.
"After this failure, Shi started to use sand-proof barriers, planting shrubs alongside these to protect the saplings. Eighty percent of those saplings survived," said Zhu. He later worked as deputy director of the forestation bureau in Dingbian county.
During this period, Shi had to persuade his team not to give up, and turned to forestry professionals for help.
Shi's sand-control company contracted large areas of barren sand and alkaline land five times. Every time the land has changed dramatically.
One of the locations-Haiziliang village in Bainijing town-has become a modern agriculture demonstration area. What was previously a sandy region has become a land producing vegetables and grain.
The annual income of the village's farmers has increased from 300 yuan ($46) in 1984 to more than 10,000 yuan now-one of the richest in the county.
To date, the company has fixed assets amounting to 77.52 million yuan, with annual revenue of more than 10 million yuan. The company's trees are worth 120 million yuan in total.
The company's efforts to improve the environment include pasture and farming operations, and vineyard work, which have increased locals' incomes.
The company has built villages for immigrates to help more than 1,000 villagers to overcome poverty. "Shi always attaches importance to children's education. He invested 1.25 million yuan to build two primary schools to solve the problem of children's initial education," Zhu said.
In addition, Shi established a sand-control exhibition with a 2.36 million yuan investment. A total of 13 staff members-the children of the company's founding members-gave up well-paid jobs to work in the exhibition to provide ecological education and train forestry technicians.