China tourism called 'one of best' examples
By ZHAO XINYING | China Daily | Updated: 2017-09-12 08:08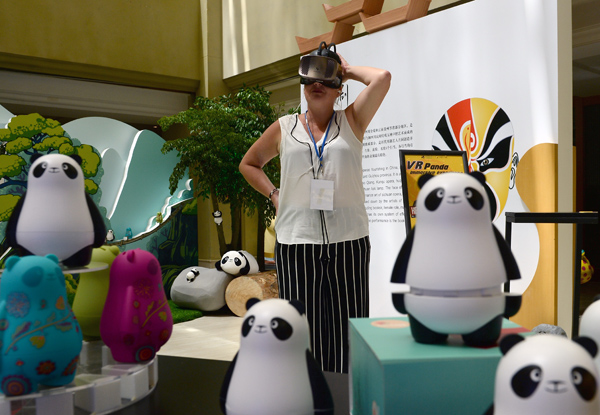 A guest uses virtual reality goggles to view a panda-themed promotional video at the United Nations World Tourism Organization's 22nd General Assembly in Chengdu, Sichuan province, on Monday.[Photo by HAO FEI/CHINA DAILY]
Poverty reduction using new models praised; travel sector grows to 11% of nation's economy
China is a good example of how a country can develop a healthy tourism industry, industry insiders said.
"China is one of the best examples of how tourism can be prioritized to show its potential, with themes such as rural poverty reduction," said Taleb Rifai, secretary-general of the United Nations World Tourism Organization.
The organization is holding its 22nd General Assembly in Chengdu, Sichuan province, this week. It is the second time the biennial meeting has been held in China. It ends on Saturday.
Major topics include smart tourism, tourism and sustainable development, and the Belt and Road Initiative and tourism cooperation. The World Tourism Alliance will be set up during the meeting with the aim of deepening tourism cooperation among members and facilitating sustainable development of the industry worldwide.
China has been the top source of tourism spending, and is the fourth-most-visited country, he said. It also has the largest domestic tourism market, with 4.4 billion trips inside China and tourism income reaching $600 billion last year.
According to Li Jinzao, director of the China National Tourism Administration, the country's tourism revenue grew 13.6 percent year-on-year in 2016, and now accounts for 11 percent of the national economy.
Rifai added that more than 1,000 participants, including 74 minister-level officials, from 130 countries and regions are attending the meeting.
The assembly is also expected to play a positive role in guiding and supporting the recovery of Jiuzhaigou, a well-known scenic spot in Sichuan, which was hit by a magnitude-7.0 earthquake in early August.
Maurice Loustau-Lalanne, minister of tourism in the Republic of Seychelles, an island archipelago in the Indian Ocean, said China has maintained good relations in terms of tourism cooperation. He said that five years ago Seychelles had only 500 visitors from China. Last year, 15,000 people visited.
With cooperation from the assembly, the country hoped the number could reach 30,000 by 2020, Loustau-Lalanne said, adding that he would like to expand cooperation to include tourism promotion and marketing, and the training of people in the tourism industry.