US Supreme Court temporarily allows Trump's ban on most refugees
Xinhua | Updated: 2017-09-13 14:31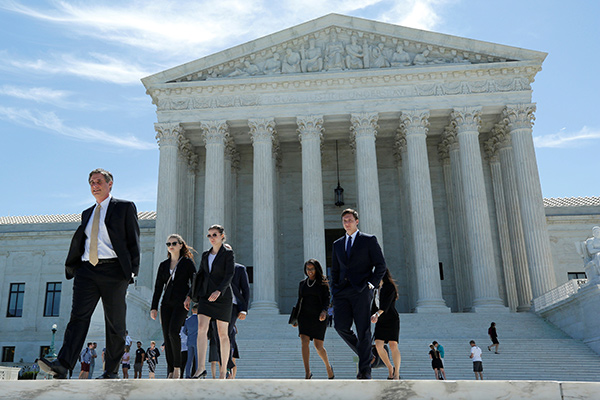 People walk out after the US Supreme Court granted parts of the Trump administration's emergency request to put his travel ban into effect immediately while the legal battle continues, in Washington, US, June 26, 2017. [Photo/Agencies]
WASHINGTON - The US Supreme Court on Tuesday issued a brief emergency order allowing the Trump administration to keep travel ban on most refugees while the legal battle over the ban continues.
The order effectively reversed part of a federal appeals court ruling that had lifted the travel ban's restrictions on the nation's refugee program.
It took a vote of five justices to grant a stay application until further notice, according to the local media reports. The Supreme Court justices did not explain their reasoning in their one-paragraph order.
In its opinion last week, the Ninth Circuit of Appeals Court based in San Francisco ruled against the Trump administration, saying refugees should be allowed to enter the United States if they are covered by an admissions agreement between the US government and a refugee resettlement agency.
Under the federal appeals court's ruling, roughly 24,000 vetted refugees should be able to enter the United States. They will now be ineligible for entry.
The appeals court had also rejected the Trump administration's bid to bar the US entry from six Muslim-majority countries by people with grandparents, uncles, aunts and other relatives in the United States.
The Trump administration did not challenge that part of the ruling, and the Supreme Court did not address the question in its Tuesday order, said a New York Times report.
The Supreme Court handed the Trump White House a partial win in June when it allowed the administration to temporarily block people from six Muslim-majority countries from entering the United States, while carving out an exemption for people with a bona fide relationship with a person or entity in the country.
Under the US travel ban, people from Iran, Libya, Somalia, Sudan, Syria and Yemen, are denied entry to the country for 90 days, while all refugees are banned from entering the country for 120 days so as to give the Trump government time to assess vetting procedures.
The Supreme Court is scheduled to hear arguments on Trump's overall travel order on Oct 10.