Xi discusses cooperation with Brunei sultan
By ZHANG YUNBI | China Daily | Updated: 2017-09-14 05:30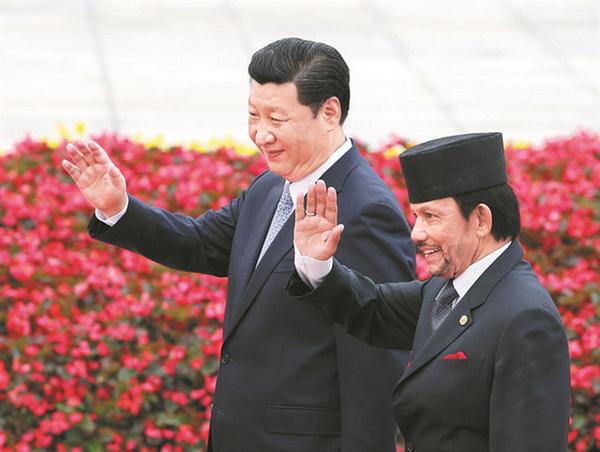 President Xi Jinping holds a welcoming ceremony for Brunei's Sultan Haji Hassanal Bolkiah in Beijing on Wednesday. WU ZHIYI / CHINA DAILY
Infrastructure, health and defense affairs are among highlights of the cooperative documents signed following the meeting on Wednesday between President Xi Jinping and Brunei's visiting Sultan Haji Hassanal Bolkiah.
During their meeting, Xi said the two countries should reinforce the exchange of governing experience, the synergy of their development strategies as well as pragmatic cooperation in various fields.
Both countries should strengthen cooperation in areas such as infrastructure construction, energy, halal food, agriculture, fisheries and digital economy.
Hassanal, who is both the sultan and prime minister, said his country supports the Belt and Road Initiative and it will continue honoring the one-China policy.
Brunei welcomes Chinese enterprises making investments and developing business there, and the country is ready to further maintain high-level contacts with China and expand cultural exchanges.
Hassanal was making his second state visit to China — the first was in 2013.
Wednesday's talk was amicable, and the outcomes were fruitful, said Xiao Qian, director-general of the Foreign Ministry's Department of Asian Affairs.
Speaking about the South China Sea, Xi said the current situation is increasingly stable and cooling, and it shows a positive momentum of development.
China is ready to work with parties concerned, including Brunei, to make the South China Sea a sea of peace, friendship and cooperation, Xi said.
Brunei is ready to work with China to champion peace and stability in the South China Sea and continue to nurture the ties between ASEAN and China, Hassanal said.
Before arriving in Beijing, Hassanal attended the 14th China-ASEAN Expo in Nanning, Guangxi Zhuang autonomous region.
China appreciates Brunei pushing forward the development of the China-ASEAN relationship, Xi said.
China is willing to strengthen the synergy between the Belt and Road Initiative and the development plans of ASEAN, promote and upgrade their ties and boost the buildup of the ASEAN Community, Xi said.
zhangyunbi@chinadaily.com.cn