Councils to help promote culture
By Wang Kaihao | China Daily | Updated: 2017-09-14 07:30
China's State-owned cultural institutions will adopt a new management system to give them more flexibility and make them more responsive to the public.
The institutions, including libraries, museums and art galleries, will set up management councils composed of employees, experts and public representatives as their top decision-making bodies, the Ministry of Culture said on Wednesday.
"Representatives from outside these cultural institutions must make up a majority of the council members," said Chen Binbin, deputy director of the ministry's public culture department.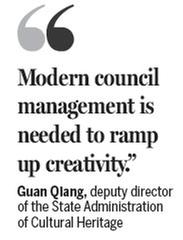 The councils will plan the future development of the institutions, approve budgets, draft regulations and be involved in other major issues. They will have more discretion to adjust positions and modify salaries to encourage excellent employees.
"The councils can react to the actual needs of the public faster," Chen said.
Current directors and other managers will be responsible for carrying out policies decided by the councils and for daily operations.
The most important decisions must be made in cooperation with the Party committees of the institutions, Chen said.
In China, most State-owned cultural institutions were administered by governments, but Chen said more autonomy will be given to these institutions, while governments will organize the councils and provide guidelines.
"Modern council management is needed to ramp up creativity," Guan Qiang, deputy director of the State Administration of Cultural Heritage, told China Daily in an previous interview.
For example, the development of souvenirs and other cultural items had been an issue with Chinese museums because some felt that making money from such products was in conflict with their nonprofit nature.
"Some museums were reluctant to create new products, despite the fact that such items attract visitors and promote traditional culture," Guan said.
The reform will be tried at national and provincial institutions by the end of 2018, and is scheduled to cover all city institutions by the end of 2020.
"It will help to clarify the relationships between governments, the market and cultural institutions," Chen said.