ZTE sets sights on 5G
By Lia Zhu in San Francisco | chinadaily.com.cn | Updated: 2017-09-14 10:59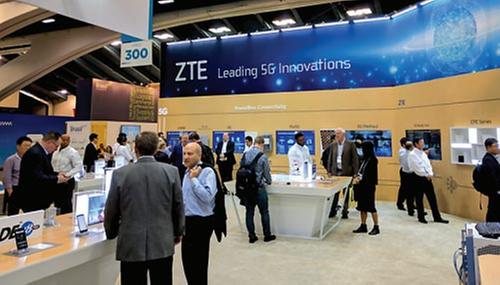 Visitors drop by ZTE's booth at the MWC Americas 2017 on Wednesday in San Francisco. LIA ZHU / CHINA DAILY
Shenzhen-based telco plans next- generation phone by early 2018
The next generation of smartphone is on its way, and not from Apple.
ZTE Corp, a major Chinese telecom company, has its sights set on 5G, with a prototype phone poised to launch in early 2018.
"A full range of 5G products have been made ready. We expect the 5G standards can be frozen before the MWC (Mobile World Congress) 2018 show (from Feb 26 - March 1). Then we will launch the world's first 5G phone by the first quarter of next year," said Zhang Zhenhui, executive vice-president of ZTE, at the ongoing MWC Americas (MWCA) in San Francisco.
At the MWCA 2017, the inaugural show of MWC in the US, the Shenzhen-based company showcased an array of 5G technologies, including a 5G new radio (NR), 5G Flexhaul, Cloud ServCore, and high- and low-frequency products.
ZTE also brought its first customized AAU (active antenna unit), which the company said is the industry's smallest and lightest in its class.
5G is the proposed next telecommunications standard, aiming at higher capacity than the current 4G - higher speeds, lower latency, higher throughput and more connections.
A 5G network provides up to a million connections per square kilometer, which makes "everything on mobile" possible, company literature claims.
China will be one of the early 5G launch markets alongside its regional peers, South Korea and Japan. Unlike other countries, China is likely to launch 5G with a predominant standalone model, according to GSMA's 2017 Global Mobile Trends report released ahead of MWCA 2017.
China plans to fully commercialize 5G in 2020. ZTE said it is trying to realize the commercial Pre5G deployment in 2018 and realize the official commercial deployment as of 2019.
ZTE has invested heavily in 5G research and development since 2009, with about 3,000 technical experts working on the field developing core technologies, Zhang said.
The company has conducted 5G trials in collaboration with China's three largest operators for nearly a year - a project with China Mobile in Guangzhou, a trial with China Telecom in Suzhou and Xiongan and a project with China Unicom in Shenzhen, according to Zhang.
In February, ZTE announced a cooperative effort with China Mobile and Qualcomm to carry out 5G new radio interface tests.
Since entering the US market in 1998, ZTE has considered the US one of its most important markets and partners, said Zhang.
In 2016, China had 1.32 billion handset users; the US had 327 million.
"The size of the potential markets in China and the US paves the foundation for the collaboration between the two countries," said Zhang. "Collaboration in the next generation network could more efficiently meet the needs of the users of both countries."
liazhu@chinadailyusa.com