Chinese films growing up at Toronto festival
By NA LI in TORONTO | chinadaily.com.cn | Updated: 2017-09-14 23:21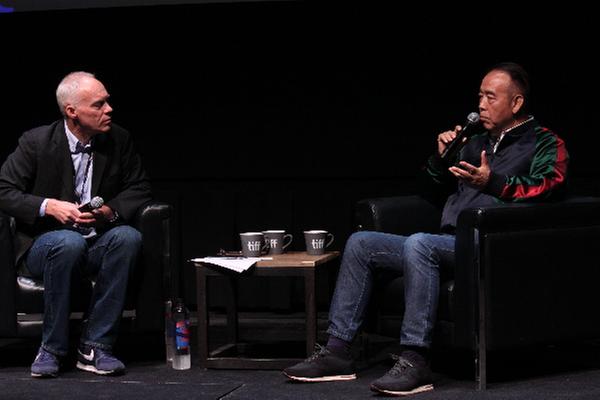 Chinese director Chen Kaige (right) discusses his cinematic journey with Variety's Asia Bureau Chief Patrick Frater on Sept 10 during the Toronto International Film Festival. NA LI / CHINA DAILY
Feng Xiaogang's latest film is called Youth, which could represent a coming of age for Chinese cinema at the 42nd Toronto International Film Festival (TIFF), the Hollywood North due to its booming industry that covers all genres of film.
As the festival's most anticipated film from China, Youth has attracted vast audiences following its premiere at a special presentation in Toronto on Sept 8.
More Chinese filmmakers and movies are present at the festival in "Hollywood North" compared with recent years.
Set in China in the 1970s and 1980s, Youth chronicles the lives of a group of idealistic adolescents who take part in an army art troupe, experiencing love and the growing pains of early adulthood. Feng's sense of nostalgia has touched the hearts of audiences.
"It's amazing, very touching," said a Canadian woman who attended the premiere with her friends. "The music, the dancing … all is so beautiful. We see the history of China."
The other Chinese movies at TIFF include Angels Wear White, Dragonfly Eyes, Manhunt and Struggling, for which the festival teamed up with the China Film Archive for a screening of the recently restored 1932 Chinese silent film.
In an interview with China Daily, TIFF CEO and Director Piers Handling said a "very special" network had been set up to connect with more filmmakers, directors and actors in China.
"We intend to get more and more Chinese films to the festival. We have gone to China a lot of times, especially to Beijing and Shanghai, talking to people and producers, directors and film groups. We simply would love to have more Chinese films and filmmakers involved," Handling said.
Handling said there is a good amount of interest in Chinese films in the North American market, and the potential is great.
"But to be honest, I think it is really tough to get any foreign-language films here. You have to do the films in English to gain access to the market," he said.
He advised Chinese film producers to imitate the American system, making each film in English, supported by sufficient budgets and professional studios and access to theaters.
"Chinese filmmakers would have to do it on their terms with international reputations and standards if you want to compete with Hollywood," Handling added.
Chinese director Chen Kaige, who heads the jury for the festival's cutting-edge Platform section, said he is optimistic that Chinese films eventually will be recognized worldwide.
"Chinese art houses have expanded everywhere. We have more than 40,000 screens in the country. China's film box office is the second largest in the world," Chen said as he presented a sneak peek of his movie The Legend of the Demon Cat. He also discussed his cinematic journey as one of China's fifth-generation directors.
"That makes me and other directors realize that … you have to make sure you could find a new way to tell the story," Chen added.
renali@chinadailyusa.com