Iowa, Hebei build demo farm
By Yuan Zhang | chinadaily.com.cn | Updated: 2017-09-18 12:21
A delegation of nearly 50 people from Iowa embarked on a 10-day visit to China on Sunday and a ground-breaking ceremony for a China-US Friendship Demonstration Farm, believed to be the first of its kind, is on the agenda, China Daily learned Sunday morning.
Terry Branstad, the US' new ambassador to China, will attend the ceremony, according to a news release from the Iowa Sister States commission, a non-profit organization founded in 1985 to manage Iowa's official relationships with foreign states and provinces. The organization was established when Branstad was governor.
The China-US Friendship Demonstration farm, to be located in Luanping county, Hebei province in northern China, will include an educational agriculture site modeled after a farm near Maxwell, Iowa, owned by Rick and Martha Kimberley and their son Grant. The educational components of the project will include visuals of modern agriculture technology such as machinery, and advances such as grain storage and drying, as well as test plots.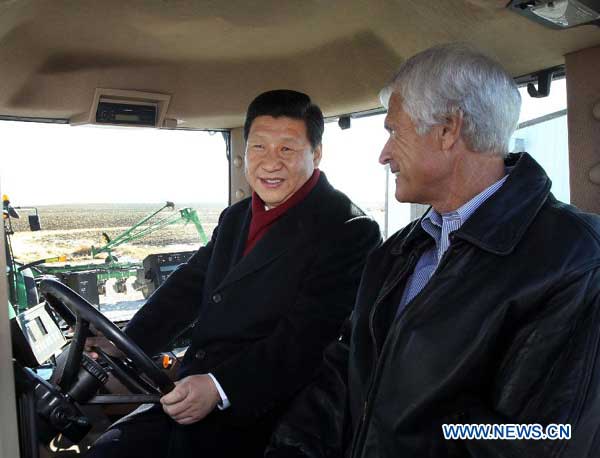 Then Chinese Vice-President Xi Jinping (L) talks with farmer Rick Kimberley as they sit in the cab of a tractor in Des Moines, Iowa, Feb 16, 2012 file photo. [Photo/Xinhua]
Rick Kimberley, president of Kimberley Farms Inc, told China Daily that the demonstration farm will occupy a total area of 3,000 acres and will open on Sept 23. "The first phase will be a recreation of my home and building," Kimberley said.
"When President Xi was at my home and farm (in 2012), he said that he wanted to use my farm as a model of modern agriculture to China. So they will recreate my home and buildings."
The demonstration farm will use the same modern equipment and technology that the Kimberleys use. There will be demonstration plots for seeds and demonstrations of the use of equipment.
"The farm will create an environment for learning and showcasing modern farming practices and techniques," Kimberley said. "There will also be a conference center."
Besides executive director Kim Heidemann and board members Luca Berrone, Grant Kimberley and Will Zhang, the delegation also includes Rick Kimberley and representatives from Cozen O'Connor, China-Iowa Group, Diamond V, TransOva and Sukup Manufacturing.
Representatives from other organizations will join the delegation in China, including Hy-Line International, the Des Moines Register, Principal Financial Group, Syngenta, John Deere, Monsanto, DuPont Pioneer and BlueShirt Group.
Following the ground-breaking ceremony, attendees will participate in a Hebei-Iowa agriculture seminar. In addition to attending the ceremony, Ambassador Branstad will also host a reception, according to the news release.
In 1983, then governor Branstad signed the Iowa-Hebei Sister State/Province agreement with then Hebei governor Zhang Shuguang. The "relationship is one of Iowa's most famous and visible relationships since it was formally recognized by Chinese President Xi Jinping", according to a news release. In 1985, Xi Jinping, then a county leader in Hebei province, visited Iowa through the sister-state/province program.
In 2012, Xi Jinping returned to Iowa as vice-president of China. It was his first time back to the state since 1985. During his visit, he met with several "old friends" from 1985, along with visits to new places such as the Kimberleys' farm. During that visit he declared that Chinese farms should be modeled after the Kimberley farm, according to the news release from Iowa Sister States commission.
yuanzhang@chinadailyusa.com