Project with Ukraine to bolster nation's aircraft engine capability
By ZHAO LEI | China Daily | Updated: 2017-09-20 07:25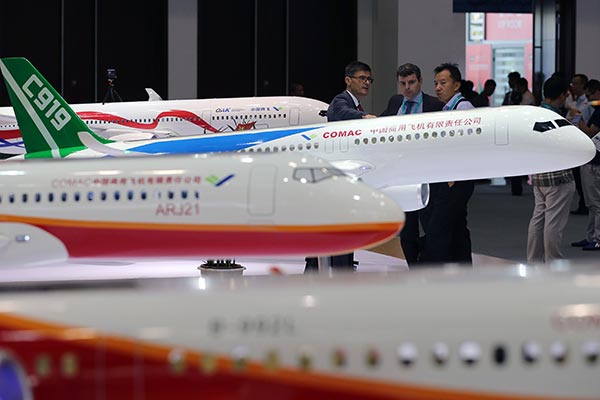 Visitors look at a model of the Chinese-built C919 passenger plane at the 17th China Aviation Expo in Beijing on Tuesday. WANG ZHUANGFEI/CHINA DAILY
China is working with Ukraine on an industrial park to build aircraft engines, a joint venture expected to extensively boost China's research, development and production capabilities in that area, according to project insiders.
Chongqing Skyrizon Aero-Propulsion Industrial Park, which broke ground in late 2015, will cover 5 square kilometers in the Chongqing Liangjiang New Area, and involves an investment of 20 billion yuan ($3.04 billion).
The industrial park's investors are Beijing Skyrizon Aviation Industry Investment Co, the only private aeronautical engine company in China, and Ukraine's Motor Sich Joint Stock Co, one of the world's largest aircraft engine manufacturers. In the park's initial stage, they will jointly produce Ukrainian-designed engines there.
Later on, the companies will use the park to jointly develop and manufacture new engines such as turboshaft, turboprop and turbofan models, said Wang Guangqiu, executive vice-president of the Skyrizon Innovation Institute, Skyrizon's research wing.
The first engine-testing equipment in the park has been installed and is ready for trial operations. The first assembly plants have been built, which means the first phase of construction has finished, he told China Daily in an exclusive interview on the sidelines of the 17th China Aviation Expo, which opened in Beijing on Tuesday.
"Aircraft engines involve a high-tech and sophisticated industry that requires a long time for growth. There were two reasons we wished to cooperate with Motor Sich. First, we want to learn its expertise and experience in design and production via our collaboration," Wang said.
"Maybe in three to five years, we will be able to play a bigger role in the joint venture's development of new engines. In the long run, we will be capable of designing engines on our own," Wang said.
"The second reason is that Ukrainian engines have been used by Chinese planes and helicopters for decades - the first Chinese-made trainer aircraft was driven by an engine of Motor Sich," he said.
The Chinese company intends to replicate its Ukrainian partner's success in engine upgrades and aftersales service, he added.
Skyrizon began collaborating with other Chinese and Ukrainian aviation enterprises in 2014, becoming the first Chinese private company that has worked with a foreign aircraft engine company, according to Skyrizon. In 2015, the company established a strategic cooperation partnership with Motor Sich in personnel training, research and development, and production, it said.
Liu Feiyang, deputy director of international cooperation at Skyrizon, said Ukrainian engineers are as good as their Western counterparts when it comes to aeronautical engines. The Chongqing project will bring some of Ukraine's most advanced design theories and methods as well as manufacturing processes to China.
"Our introduction of foreign technologies, techniques and professionals will strengthen the overall capability of the Chinese aircraft engine sector," Wang said.
Vyacheslav Boguslaev, president and general designer at Motor Sich, said his company is working with Skyrizon to set up a joint design center in the Chongqing industrial park and the two are also planning to establish a joint maintenance center there.
Wang Yanan, editor-in-chief of Aerospace Knowledge magazine, said the cooperation between Chinese and Ukrainian aeronautical engine enterprises will help to diversify the market and offer more options to users, thus benefiting the whole aviation industry in China.
zhaolei@chinadaily.com.cn