Smartening the world with robots
By Ma Si | China Daily | Updated: 2017-09-25 07:13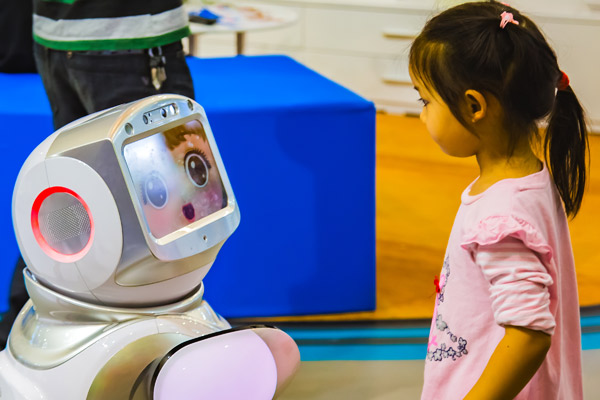 A robot powered by artificial intelligence interacts with a child at a recent tech and innovation expo in Nanjing, Jiangsu province. [Photo provided to China Daily]
Chinese firms specializing in robotics, automation, AI systems reign supreme
Scene 1: Canada-A team of robots assembles various car parts for General Motors at an automobile plant humming with assorted factory sounds.
Scene 2: Russia-A warehouse gets the ultra-modern edge with the help of an advanced automated logistics system.
Scene 3: Malaysia-A service robot "employed" by a real estate company welcomes prospective homebuyers to a popular apartment and waxes eloquent on the flat's unique features.
That's the power of robotics, automation and artificial intelligence or AI, where leading products and systems, like the ones described above, are made in China but serve the world.
A report in Nikkei Asian Review said about 90 percent of the personal robots on display at the IFA consumer electronics trade show, which was held in Berlin earlier this month, were developed and manufactured by Chinese companies.
Shenyang-based Siasun Robot & Automation Co is the largest among them, in terms of its market value of 33.5 billion yuan ($5.1 billion). Its products are now exported to more than 30 countries and regions, half of which are participating in the Belt and Road Initiative.
Two-thirds of Siasun's customers are foreign companies. Like Siasun, many other Chinese robot makers are going global, in line with the national policy for local businesses.
Established companies as well as startups are grappling for technological supremacy in the fields of automation, AI and smart products.
International cooperation, M&A, and overseas R&D centers are some of the routes they are taking to reach the top.
Their approach conforms to the "Made in China 2025" strategy, and dovetails with the country's plan to boost its annual production capacity of industrial robots to 100,000 by 2020. The corresponding figure at 2016-end was 72,400.
Sensing the surging demand for such products and systems in industries like healthcare, education and entertainment, China is targeting service robot sales worth more than 30 billion yuan by 2020.
The International Federation of Robotics has forecast that the global industrial robot market will reach $20 billion in sales by 2020 from $13.2 billion in 2016.
Qu Daokui, president of Siasun, said the company is looking at robot technology leaders in Europe and the United States as its potential M&A targets. Acquisition deals could start from $1 billion euros ($1.18 billion).
"Chinese robot makers must go global. The industry is so globalized and changing so fast that no one knows what a robot will look like in five to seven years. If we only stick our eyes to the home turf, we will die out," Qu said.
That note of caution comes despite a robust 52-percent year-on-year growth in production to 59,000 units of industrial robots in the first half of this year. What's more, such growth came against mounting competition from foreign rivals such as ABB Group of Switzerland.
According to the Ministry of Industry and Information Technology, China is now on a par with foreign countries in voice- and image-recognition technologies, which are key to making smart robots.
Also, about 50 percent of domestic robots are equipped with homegrown servomotors, a key element of sophisticated automated machines.
This ability overcomes certain technological bottlenecks that have been impeding the industry's development for a while.
Wang Tianmiao, president of the Smart Manufacturing Research Institute at Beihang University, said technological progress is helping accelerate the global expansion of Chinese robot makers.
"But greater international cooperation on R&D is needed to crack the high-end overseas market," Wang said.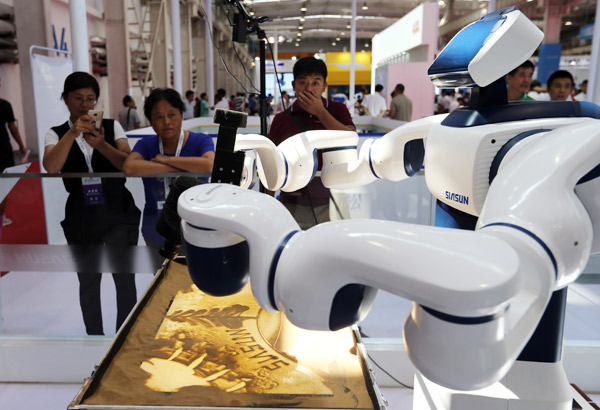 An AI robot shows its skills as per technicians' instructions at the 2017 World Robot Conference in Beijing in August. [Photo by Wang Zhuangfei/For China Daily]
Chinese home appliance maker Midea Group understands that need well.
It picked up majority stakes in German robot manufacturer Kuka GA last year and in Israeli motion solutions provider Servotronix Motion Control Ltd earlier this year. It will integrate their technologies into its robotics.
Mounting enthusiasm for broader international cooperation was in evidence at the 2017 World Robot Conference in Beijing in August.
Vice-Premier Liu Yandong said at the event's opening ceremony, "We will step up efforts to foster closer cooperation with other countries, focusing on robotics R&D, training, and how to better integrate artificial intelligence technologies into robotics."
Vitaly Nedelskiy, president of the Russian Association of Robotics, one of the 15 leading international robot organizations that attended the conference, was overwhelmed with Chinese companies' willingness to establish partnerships.
"Successful China-Russia cooperation examples have sprung up in the last two years. Chinese companies' manufacturing capabilities and cost controls are attractive propositions for Russian companies," Nedelskiy said.
According to him, the Russian-Chinese Investment Fund and the Skolkovo Foundation, which runs the Russian Skolkovo Innovation Center, a scientific and technological center, signed an agreement last June to establish a medical robot center in China's Shaanxi province.
Chinese robot maker Shanghai STEP Robotics Co Ltd also has a cooperation agreement with a Russian enterprise to produce six-axes industrial robots in Russia's Novosibirsk.
Chinese companies are also setting up R&D centers abroad to get hold of state-of-the-art technologies.
Zong Xiao, vice-president of HIT Robot Group, a Chinese robot manufacturer, said the company has established a venture capital fund to invest in promising AI startups in the US, as robots become increasingly reliant on AI to get smart.
Two years ago, it set up two offices in Silicon Valley and Washington to help access the latest AI trends and the industry's best talent.
Such a go-global strategy is most evident in the service robots sector.
Zheng Weifeng, CEO of PowerVision, a Beijing-based unmanned machine maker, said: "Previous generations of Chinese companies never considered overseas expansion until they grew very big in the domestic market. But we are different from the day we entered the consumer robotics market, we positioned ourselves to integrate with global resources and the global consumer trend."
The company has a design and R&D team in North Europe and an AI team in the US.
In January, it unveiled PowerRay, an underwater machine that can swim to a depth of 30 meters and is fitted with a sensor-rich 12MP camera that records 4K footage. It has also partnered with Carl Zeiss, a German manufacturer of optical systems, to create a virtual reality headset for PowerRay.