Expert says China is ready to wrest robotics leadership
By Ouyang Shijia | China Daily | Updated: 2017-09-25 07:43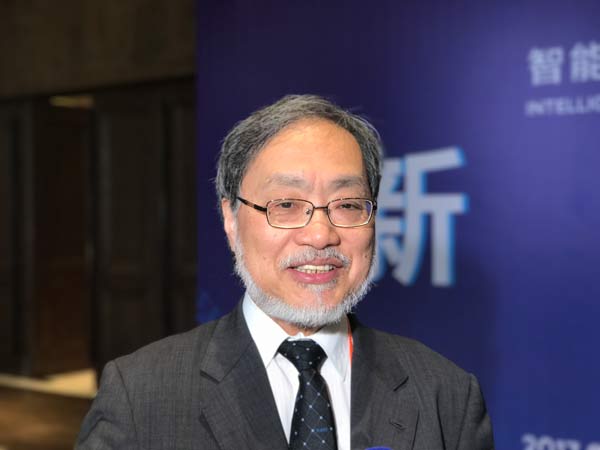 Toshio Fukuda, a member of the Science Council of Japan. [Photo provided to China Daily]
Seeking to be at the forefront of the next technological revolution, China is committed to cooperate with more countries and will be able to lead the world in several fields of robotics in the next five to ten years, said a member of the Science Council of Japan.
Toshio Fukuda is a professor of robotics and a renowned authority on the subject. He also works under the 1,000 Talent Plan for High-level Foreign Experts at the Beijing Institute of Technology. He said after years of booming development, China's robotics market is now growing at a decent speed, and remains faster than other major countries.
"China is a gold mine for innovation and technologies and has large markets for robotics," he said. "With the supportive policies, abundant resources provided by both the government and the companies and more forms of cooperation, China will catch up within a few years and then overtake other developed countries to take the top spot in many fields of robotics."
With expertise in micro-and nano-robotics and bio-robotics, Fukuda is recognized globally as a top robotics expert and a pioneer in multi-locomotion robots and simulator. He is also the director of Division X Systems & Control of the Institute of Electrical and Electronics Engineers, and has won dozens of key academic awards, including the Chinese Government Friendship Award.
He said during the World Robot Conference in Beijing last month that China is now at a new phase with the ability to produce its original robots, and will be able to lead the world in manufacturing robots and making service robots in the future.
"Particularly in China, there will be a huge market for services robots that assist people in improving the living conditions, such as the cleaning robots, caring robots for elderly people and kids and the data logging robots for healthcare.
"After decades of economic boom and development, Chinese people now are sufficiently affluent to be able to afford a better quality of life. And I believe that in the near future, those service robots would be able to cater to people's specific needs and bring much more value than we thought today."
In 2015, China introduced the Made in China 2025 strategy, a 10-year national plan to transform the country into a world-class high-tech manufacturing power. The plan aims to move manufacturing up on the value chain, developing several key sectors, including robotics.
With the rapid development in robotics in recent years, China is becoming an increasingly important market for robotics.
The International Federation of Robotics estimates that China's shipments of robots rose 27 percent to around 90,000 units in 2016, almost a third of the global total. And the number is expected to almost double to 160,000 in 2019.
Fukuda said Japan and China should cooperate together in developing and producing the necessary robots for consumers. Chinese robot companies should grasp the opportunity, he said.
"The competition in robotics will be very fierce. Instead of being locked in a competitive environment in first-tier cities like Beijing and Shanghai, companies should find new niche markets and even target small towns," he said.