Time to drink to robot revolution
By Zhu Lingqing | China Daily | Updated: 2017-09-25 07:47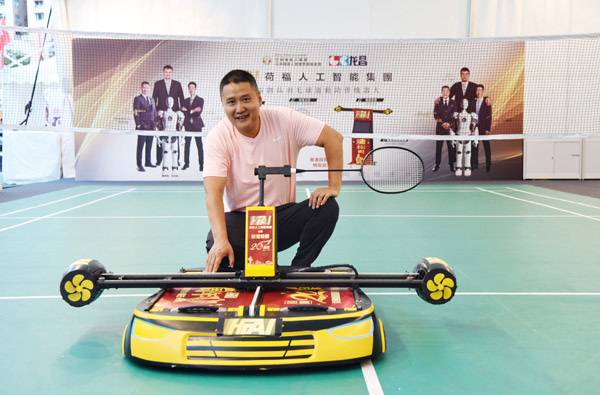 Zhou Jinting, chairman of Shanghai Hefu Holding (Group), said that robotics will bring big changes to industries. [Photo provided to China Daily]
At a large wine chateau in the region of Bordeaux, France, busy robots use artificial intelligence and other technologies to pick and screen grapes as well as make wine.
The chateau might be the world's first such facility to use AI to improve and optimize grape planting and wine brewing, said Zhou Jinting, chairman of Shanghai Hefu Holding (Group) Co Ltd, at the World Robot Conference in Beijing last month.
Hefu bought the chateau last year. Zhou said he believes the rapid development of AI, robotics, intelligent machines, big data and cloud computing will bring revolutionary changes to the wine industry as well as a wide range of traditional industries.
The chateau is a pilot project of Hefu's AI and robotic technologies that are applied in changing traditional production methods.
It also marks the company's global expansion. Zhou said Chinese robotics companies can go global in various ways.
The one Hefu prefers is by introducing robots developed by the company into the properties it buys in foreign countries.
"It can become our overseas base and serve as an example for other properties in the foreign market," Zhou said.
Chinese robotics companies can use other routes." One way is to introduce low-priced robots that can perform simple but reliable functions in markets of economies involved in the Belt and Road Initiative. Another is to use competitively priced high-end robots to enter developed markets," Zhou said.
He, however, stressed only Chinese companies that excel in the domestic market would succeed globally. "It's because the foreign market is more complex, be it in terms of application level or technology level."
One concern is that Chinese companies still rely on imported core components, Zhou said. "We are trying to solve this problem with our technologies and intellectual property rights, but it'll take time."
Zhou believes existing bottlenecks can be removed in three to five years as the government has attached great importance to the industry.
He said Chinese robotics companies have started showcasing their creations at this year's WRC.
"Two years ago, when the conference was held for the first time, we were not confident. For us, it was more like an open platform where we could broaden our horizons and learn from foreign companies," Zhou said.
Things have changed since then. Some of the most appealing robots at the event were made by Chinese companies.
Zhou said Chinese companies appear to have positioned themselves more precisely in the world market than others, on the back of confidence arising from success in a huge market like China.
China's robotics industry will be worth $6.28 billion this year, after exceeding $5 billion for the first time in 2016, according to the International Federation of Robotics.
A Bloomberg Intelligence report said China bought 90,000 robots in 2016, almost a third of the global total.
"While developed countries are leading the world in electronic information technologies and robot designs, we have broader applications and market feedback in China," Zhou said.
"A big market means enormous vitality, which then enables the industry to adjust orientation and upgrade products according to the real demand."
He said no one can predict who will be the real giants in the future-and that's the charm of the industry.
Vietnam will be Hefu's next foreign destination, Zhou said.