Silk Road expo logo targets young visitors
By CAO YIN | chinadaily.com.cn | Updated: 2017-09-25 18:00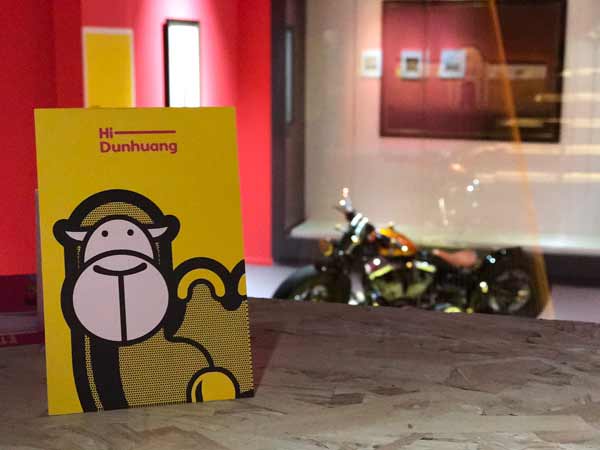 The cartoon camel shown during the Second Silk Road International Cultural Expo. [Photo provided to chinadaily.com.cn]
A cartoon camel logo was unveiled at the second Silk Road International Cultural Expo, which opened on Wednesday in Dunhuang, Gansu province, to make local tourism and traditions more appealing to young people.
Visitors can see the cartoon figure everywhere in the expo venues, and also purchase products bearing the logo, including umbrellas, T-shirts and postcards.
"The camel is the first image that comes to most people's minds when they think of Gansu, and it is a typical figure of Chinese northwestern culture, which is why I decided to take it to the expo," said Wu Xian, the logo's designer from Beijing.
"In the past, many souvenirs from the province, such as handicrafts, were too expensive for travelers, while T-shirts with the words 'Gansu' or 'Dunhuang' printed in Chinese were boring, so I think it's time to change the cultural image."
The 29-year-old designer combined provincial culture and natural beauty in a cartoon, "because it is what young people are interested in", he added.
Guo Yijun, 26, from Lanzhou, the capital of Gansu, said she was impressed by the cartoon camel.
"I like the figure, it is cute and shows our provincial culture and traditions," she said. "Maybe next time I introduce my hometown and its culture to travelers from other regions or foreign countries, I'll share the camel and give the related products as gifts."
In addition to the cartoon, Wu also staged an exhibition of art and culture during the expo. "What I want is to make a contribution to the nation's travel and cultural industries, to showcase Dunhuang, a key point on the ancient Silk Road," he added.
The exhibition will end on Oct 10, according to Wu.
Vistors are enjoying exhibitions during the Expo. [Photo provided to chinadaily.com.cn]