Royole shows its flexible approach
By Chai Hua in Shenzhen | China Daily | Updated: 2017-09-26 07:51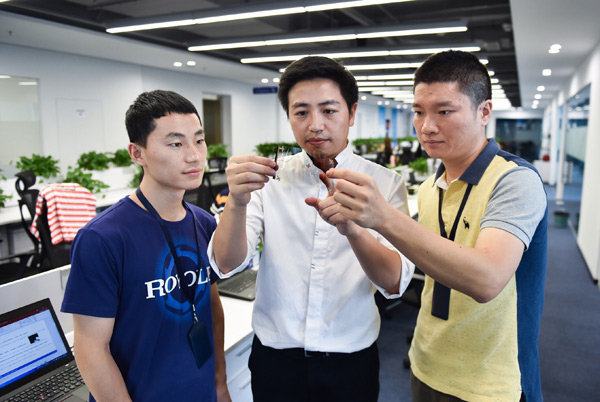 Bill Liu (center), founder of flexible display developer and manufacturer Royole Corp, checks product quality along with his employees at the company's headquarters in Shenzhen, Guangdong province. [Photo/Xinhua]
Royole Corp will unveil a state-of-the-art 10 billion yuan ($1.51 billion) factory by the end of the year.
The flexible display developer and manufacturer has constructed a massive 100,000-square-meter production line at Longgang district in Shenzhen, Guangdong province.
When it is up and running, the plant will produce 50 million flexible display screens, worth 20 billion yuan, per year.
Founded in 2012 by Stanford University graduate Bill Liu, Royole attracted global attention in 2014 when it rolled out the world's thinnest full-color AMOLED flexible display screen which can be bent or rolled. At about 0.01 mm, the display is as thin as an onion skin.
AMOLED, or active-matrix organic light-emitting diode, is the technology Apple Inc used for its latest iPhone X's all-screen design.
Earlier this year, Royole developed a pliable smartphone prototype, which can be wrapped around a user's wrist, although the company is not only targeting the mobile market.
The company's vision is to establish a platform to build flexible electronic products across various sectors, including smartphones, home appliance, healthcare, robotics, transportation and even education.
"The company has signed production contracts with companies in these areas," Liu said. "Besides screens and phones, we have also developed flexible sensors and VR (virtual reality) devices production."
Geng Yi, deputy secretary-general of China OLED Industry Alliance, stressed that smartphone production is going through a transitional period from rigid to flexible screens.
She pointed out that new models with curved-edge displays were starting to appear on the market.
"AMOLED is mostly applied to smartphone and wearable devices," Geng said. "But in future it will expand to automobile and television sectors."
Lightweight, thin, bendable and portable, it is perfect for intelligent terminal devices, she added.
But excessive costs have proved a major obstacle, with Geng citing the example of iPhone X's unprecedented high price.
"One reason is that the yield is very low," Geng said. "But mass production can help solve the problem."
Data released by IHS Markit showed that factories with the ability to manufacture AMOLEDs last year used only 28 percent of their capacity to produce flexible displays.
By 2020, that ratio will increase to 80 percent, the research company stated.
Samsung Display is now the dominant manufacturer of AMOLED smartphone panels, but Chinese factories are catching up.
The first sixth-generation flexible AMOLED display screen production line, built by domestic maker BOE Technology, is expected to deliver its first shipment in October.